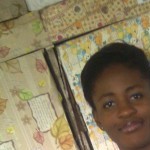 active 3 days, 10 hours ago

262points
Rank - none
""Why does today look like saturday?", that's the question playing on my mind right now. Its funny, when we are occupied, we complian about how there's too much work to do and When actually we have nothing to do,we would [...]" ·
View
THE ABUSED WOMAN CRY
Lurking behind the shadows of gaiety,
is a fear that hides behind the beauty.
Its a struggle:survival of the fittest,
war between her calm outside and an inside thats not at rest.
Calm cool terrain,it seems to the outside view,
but inside did pain and anger brew.
Tear drops falling on a battered heart like dew.
A life of abuse and rejection to mention but a few.
The smile:deceiving yet so so true,
Its a smile so sad yet so wide,
A curtain to the world,many a thing to hide,
but inside did anger and pain reside.
A spirit so pure, gentle, free and wild.
A spirit that has waged a war against times tide.
She is on a journey,a very long one,
looking for a ray of light:the break of dawn.
Down slopy hills of time,with tears in her eyes,
but inside did anger and pain scream with piercing cries.
For times past,those she wish could change,
every blow to every look,the long range,
for the part that should never have been,
for the future she wishes to see,
for every of her souls hurt,
the abused woman cries.