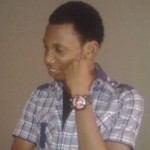 Andre @andresuave

?
active 7 hours, 31 minutes ago

580points
Rank - Beginner
"kinda confused how this works" ·
View
Thanks everyone… @ Samson: Yeah man, there had to be death. There had to be sacrifice, y'know, shedding of blood. Jesus' death ended the use of animals to atone for our sins… he died once and for all for everyone.. his blood intercedes for us and it never runs dry cos he's not really dead. [...]

@ Eyitemi… Serious! I would like to see it. Let me know when the novel comes out.

Thanx Y'all… and thank God for the gift of his son, the greatest gift ever. Happy Easter everyone.

Hey come on guys I tried… I stayed up till dusk… That cup of vinegar was just the limit. Lol.. Thanks though for the compliments.

Written on Good Friday. 22nd April 2011 I don't know at what point I gave up. I don't know at what point it became unbearable or at what point the pains turned to numbness. All I knew was that when they lashed me for the 31st time, I felt my tendons tear under my skin. When [...]

Now this is scary… I think this part is the best of all. Precise and well delivered. Great.

I love this. Funny horror. Beautiful

Ehm… I'm wasn't scared, maybe it has something to do with the fact that i got too bored to be spooked. That was some nice storytelling but a little too uneventful.

Thank's people… will definitely learn from my mistakes. For those waiting, the story's ended. The next part is another story altogether.

Thank's y'all. @4ran6, yeah I think I should have noticed that, will work on it all the same… @Scopeman, in my defense… the lights were dim and the guy was a little tipsy. Besides she was the last person he expected to see.

@Stan Whoa! didn't even notice… correction taken… thanks.