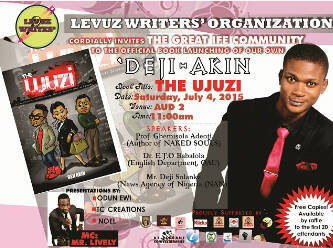 The book - THE UJUZI (A Collection of Contemporary African Short Stories and Poems); written by Deji_AKIN of Levuz Writes' Organization, Obafemi Awolowo University was finally launched on Saturday, July 4 2015. Attended by several members of the university community at the Auditorium 2, Humanities Blook 2, Obafemi Awolowo University;
******************************
Ujuzi is a Swahili word that simply means Experience. The book; "THE UJUZI" is therefore a collection of fictitious experiences of people in modern Africa, although most of the stories and poems have their settings, local languages in Nigeria (the common use of Pidgin English, Yoruba and Ibo) yet, it is easy to relate the content easily with other West African life.
It may interest you to note that the authors of this book are young writers, most of who are university undergraduates and fresh graduates. It is in the passion to create a world in which people can learn from, argue about intellectually and gain moral corrections that the authors of this book have come together to present the book.
The Ujuzi contains articles that can be classified under different tags such as Funny, Suspense, Supernatural, Horror, Romance etc, which are the invisible agents that we relate with in our everyday life.
As you read this book, I implore you to read with an open mind that is read of bias on any matter, as much as the authors made no attempt to impose a particular kind of lifestyle on the society, this book and its contents are mere suggestions of how and what should e done in different life situations, therefore it is not the purpose of any of the authors to enforce a pattern of lifestyle, neither is there any attempt to ridicule or appraise one religion over the other, the book should be seen as a world of suggestions of lifestyles with conclusions drawn as the authors reasoned. Therefore it would be of utmost joy to us, that you find every word interesting and unique in its own independent of whether or not you assume right or wrong, the lessons taught.
Deji-AKIN
1st of May, 2015
[email protected]
@DejiAkinLevuz
27EEA647
BB CHANNEL - C0027CCFE