If you want to submit a contribution or post (which could be a story, a poem, an article or a memoir), do the following:
1. Ensure you are logged in to Naija Stories. (If you are not sure whether you are logged in, you can make sure by going to http://www.naijastories.com/wp-login.php and logging in.)
2. Navigate to http://www.naijastories.com/wp-admin/post-new.php. This will take you to the 'Add New Post' page.
3. Enter a descriptive title for your post in the title field. This is the field that has the text 'Enter title here'. (See Picture 1 below.)
4. Enter the content of your post in the large content field below the title field. (See Picture 1 below.) When entering your content, please pay attention to the submission guidelines; if you do not follow the guidelines, your submission may be delayed or deleted.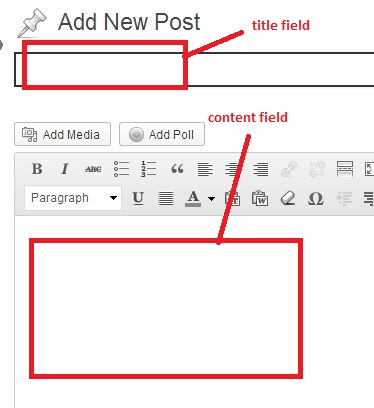 Picture 1
5. Select a category for your post from the 'Categories' list to the right of the content field. Do not select 'Uncategorized'.
6. Add descriptive tags to your post in the 'Tags' section below the 'Categories' list so that people can find your post more easily. In the field in the section, type in the tag you want to add, then click the 'Add' button next to it.
7. Click 'Submit for Review' if you are ready to submit your post. If you aren't yet ready, click 'Save Draft'
Note that as long as your story has not been published, you can still edit it, but by further editing, you may delay its publication.
After submitting your story, you can check if and when your story has been scheduled for publication by going here:
http://www.naijastories.com/wp-admin/edit.php?post_status=future&post_type=post