THE CUPID'S RISK SERIES
eBook – FREE!
This is an interactive story written by several bloggers and which I edited and published. It follows the adventures of a 25 year old Iphey who is only 6 months gone in her bank job. Her love interest is Chinedu, an engineer with a shady past. It also turns out that Iphey's missing brother in-law had abandoned his family in dire straits. With elements of romance and mystery, thriller and action, the individual writers and the readers determined what went on!
To download the complete series for free right click and Save as…
FOR DAYS AND A NIGHT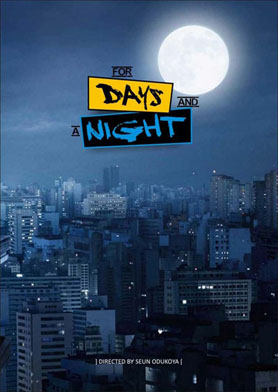 eBook – FREE!
Seun Odukoya is the author of For Days and A Night, a collection of short stories, a poem and some candid personal opinions – basically his perspective on some general issues. It is his first published book.
"I've seen some interesting wordsmiths but this guy puts the 'I' in interesting. With a quirky worldview and a lovely mix of naive and badly-experienced dark humor, you're really going to be fascinated…Read this book." Laolu Adefemi
DANA CRASH MEMORIAL ANTHOLOGY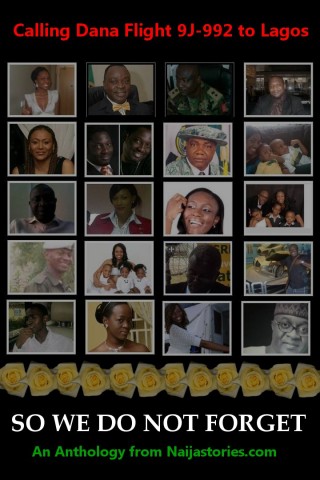 eBook – FREE!
Naija Stories called on the writers among us take the Dana tragedy and turn it into something that we could all connect with. Our writing would be a healing outlet as we attempted as a community to make sense of the trauma and the disaster. We would deal with our emotions through poetry, report on how we could do better next time in non-fiction, or even give life back to those who were lost by recreating their lives and stories through fiction.
Our hope is that the submissions collected in this anthology will help us as people and a community to deal with the disaster of the Dana airline disaster of June 3rd 2012. It is not a collection of despondence. Yes, there are sad reports, poetry and stories that might make you cry, but in the end, this is a celebration of life. Life is precious. Stories are forever.
May the souls of those who lost their lives in the Dana Crash and in other violence and tragedies in Nigeria continue to rest in peace.
Let us not forget.
Download the PDF and remember to share - Open and Right-Click, then select Save-As
ONE DAY IN THE FAILING LIGHT OF DUSK 
 eBook – FREE!
One Day in the Failing Light of Dusk is the first book by Famous Isaacs- African poet, writer,
teacher, blogger. He is currently proofreading his second book, also a volume of poetry,
Once Upon a Girl-Child, with which he hopes to contest for the NLNG prize in 2015.
Famous Isaacs is proudly a Nigerian, and he lives in Nigeria.
He can be contacted at:
+2348037175200; +2348085625356
famousisaacs@gmail.com
http://famousisaacs.blogspot.com
____________
Order NS Publishing Paperbabcks Online and have them delivered to you!
Most of us have experienced tough times, maybe we fought back or maybe we were overwhelmed, but no matter how long it takes, we are champions if we are still standing by the end. In this book, the characters manage to overcome the challenges that love, family, friendship, and the pursuit of happiness throw their way either by keeping their head up, putting their head down, looking away, not seeing at all or offering a helping hand.
The stories in this collection will show you the latent courage we all have in us, and maybe by the end you'll approach your own situations with a fresh pair of eyes.
New friendships and career achievements gradually transition Gladys into an independent young woman. Soon, she begins to fall for wealthy Edward Bestman who, though physically attracted to her, is emotionally unavailable. Edward is very wealthy, but he is haunted by the past of his illegitimate birth and other secrets he will not share. How can Gladys get him to accept her as part of his life?
The exciting volume 1 of this two part Series follows Gladys and Edward in a journey through the streets of Lagos, and the pathways of the heart as they navigate class differences, past baggage, premarital sex and more.
Overcoming his emotional scars, Gladys finally gets Edward to see that she loves him and that with love they can surmount their differences. However, when they return from a romantic trip abroad, they find that some mysterious people are about to take over Edward's business empire, and his past has come back to haunt both of them. Who are these people and will they succeed in tearing the lovers apart?
This concluding part of Love Happens is full of intrigues, secrets and shocking revelations. Love is usually gentle, but Edward and Gladys show that when need be, love will, and must, do battle to remain on top.
In her first year in University, Efe Sagay meets the love of her life, her soul mate, the person she wants to spend the rest of her life with…Kevwe Mukoro. And the feelings were mutual as Kevwe goes out of his way to woo her and make her his. The plan was that as soon as Efe graduated, they would get married. This was the dream and this was the goal for the young lovers. But real life doesn't always see things the way we do. For some people, Kevwe and Efe's love is taboo, and they will do whatever it takes to see them break up. Who are these people?Love's Beginning is a touching and emotional book that looks at life and love through the prism of university education including the influence of secret cults, inter-tribal conflict and parental interference.
This book starts 7 years after the end of Love's Beginning. After their break-up, Efe goes to America to finish her education and Kevwe puts his life into the company he had started. Fate steps in and when she returns to Nigeria, the couple meet again. Can they rekindle what was so perfect for them when they first met? Will family again put a stop to their relationship? Or has too much time passed for them to reunite, especially as Efe has a new man in her life?
Love's Second Chance will warm your heart even as it takes you deep into the pain that both Efe and Kevwe had experienced in their time apart. The book explodes the mystery of the young lover's break up and brings Efe face to face with Kevwe's twin brother!
Lagos Hanky Panky leads in this collection of short and exciting stories about the underhand, unusual and unexpected things that happen in the urban cities and spaces around us.
Featuring womanising young men in beer parlours, a governor who is where he should not be, boys experimenting with weed and a prostitute who takes matters into her own mouth, this collection of short reads will grip you from start to finish, and the characters and their stories will stay with you long after you finish.
Icatha: The Soul Eater boasts of legends and myths, creatures and lesser gods, superstitions and taboos, in the past, in the present, and neither here nor there. The fables and tales in this collection reflect the worldview that determine who we are and what we believe in.
The stories offer a rich panorama of the folkloric heritage of diverse cultures of Nigeria – tales of innocence and triumph, heroes and villains, and of animals, tricksters, and the end of the world. Or so it appears to some of the characters who lived through it.
Our Ram is Haram and other stories focuses its attention on everyday life and everyday people. Each of the stories dwells on personal yet universal experiences of life which will speak to anyone who has ever lived in Nigeria – of the good times and the bad, and of the ties that bind and the distances in between.
Reflections of Sunshine is a moving, elegantly written, incredibly insightful collection of stories that explore interpersonal relationships, loss, pain, and family – a man in coming of age feels he has to kill his brother, a couple cannot have children leading to cracks, a young woman mourns a crumbling engagement, a son has to take action as extended family squabble over his dead father's property, a young man pines for lost love and a young woman puts her own choice above that of her mother.
Rachel Academy Heroes and Other Stories are stories set in Nigeria about heroism in different forms. Heroism in the face of danger, as a teacher single-handedly spearheads the resistance to a militant group's attack on his school. Heroism in defending a peoples' right to exist peacefully in spite of military action against them. Even heroism in spite of the possibility of being the victim of a witch's spell. These are stories that will warm your heart with the courage of their characters.
Wiping Halima's Tears and Other Stories is a collection of Nigerian short stories centered around the themes of sadness, regret and heartbreak. The tales are rich in variety; they range from a child being forced into an early marriage to a would-be emigrant seeking greener pastures. But the one thing they share in common is a capacity to touch the wellspring of compassion in you.
Seeing off Kisses and Other Stories are stories set in Nigeria which illustrate the bittersweet nature of romance. They include stories about a reunion of a couple after a long absence, the decay of a once-healthy relationship and a how a young boy plucks up the courage to approach the girl of his dreams – stories that all show the amazing variety of outcomes when relationships are started.
Best Laid Plans and Other Stories is a collection stories that show a darker side of humanity in Nigeria. It includes stories about an armed robbery gone wrong, a crooked politician who would rig his way to victory, and a young man's encounter with the Devil. These are stories populated with villainous characters – stories that will thrill you, still you… and chill you.
Ekumeku is a dark and shadowy character, one who thrives in the underbelly of society. He can be friend or foe, assassin or saviour, and while he might take your money, he remains his own boss. Ekumeku is not for hire and neither is his gun.
But not everyone is so lucky. Sometimes you're able to approach life on your own terms, other times the choices are already made for you. Other stories in this collection feature aspiring footballers, presidents, house boys and then, there's the enigmatic Amaziah who would not be god.
+++++++++++++++
_______________
_______________
SELECT SUITABLE METHOD BEFORE CHECKOUT. PICKUP FROM OUR OFFICE IS FREE
DELIVERY IN LAGOS (N1500) –

COURIER WITHIN NIGERIA (N2000) –

POSTAGE OUTSIDE NIGERIA (N5000) –


____________