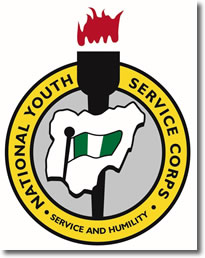 Finally, to underscore NYSC's woeful mishandling of corps members, let us discuss the use of corpers by INEC in the just-concluded electoral exercise.
When I heard, sometime in 2010, that the NYSC Director-General, Brig.-Gen. M.I. Tsiga, had signed a Memorandum of Understanding with Professor Attahiru Jega, the Chairman of INEC, to the effect that corpers would be used to officiate throughout the 2011 electoral process, I received the news with mixed feelings. On one hand, I realized it was a sensible move. Corps members are young, energetic, idealistic Nigerians, largely free from any political attachments or bias and we all want to see a country with leaders who got into office via a transparent and fair process. So, it made sense to recruit corpers. On the other hand, I was angry that such a monumental decision had been made without input from corpers themselves. Electoral work isn't among the statutory functions of any corper so how could Tsiga sign a document committing thousands of us to a job we hadn't said we were interested in? How could he simply co-opt us like slaves? I was also worried about what kind of security INEC and NYSC would provide because as we all know elections in Nigeria always involve violence. Neither of my worries was addressed by INEC officials at the local INEC office in Sunkani, Taraba State, where I was posted. All they said was the work was not compulsory so if you weren't interested, you didn't have to do it.
We, corpers in Sunkani, all registered for the INEC work. When it was time for the Voter's Registration Training, we accommodated, and in some cases fed, about a hundred corpers from all over the local government in our rooms at the Corpers Lodge. Between INEC and NYSC, no accommodation arrangements had been made for the corpers who were coming from other parts of the LGA for the 3-day training. Not one word was spoken about the accommodation issue by any INEC or NYSC official. Imagine that!
About 200 corpers were in Sunkani for the training. Of this number, only about 20 or so were resident in Sunkani; the others came from outside, from places like Tao, Pamanga, Iware, Mayo-Ranewo, Dakka; places up to 2, 3 hours away. Still, NYSC/INEC didn't feel that organizing accommodation for all these corpers was their responsibility. They left them all high and dry. These corpers from elsewhere had to start begging friends/acquaintances resident in Sunkani to accommodate them. Even then, we couldn't accommodate everybody so those from ATC, a College of Education about 45 minutes away from Sunkani, had to go back there at the end of the training (i.e. 5p.m.) each day.
NYSC/INEC did not provide any stipend to offset all these inconveniences suffered during the training period. For 3 days, they did not accommodate, and they did not feed us. We were there from 8 a.m. to 5 p.m. each day and not once did we get even light refreshment. The worst and most annoying thing is that they didn't even talk about it! Both INEC and NYSC officials present acted as if our welfare was none of their concern. We came for the training and that was all they cared about. In fact, I think the best way to describe it is they acted as if they were doing us a favour; as if we corpers were all hungry, poverty-stricken individuals and their using us for the electoral work was the best thing that ever happened to us. That was the impression I got.
Eventually, the list of corpers to officiate in the Voter's Registration in Ardo-Kola LGA was released and in a cruel, ironic twist of wuru-wuru that I'm still struggling to understand, only one corper from Sunkani was on it. The excuses given were ridiculous. "We didn't understand Hausa". How many corpers on the list did? "It was a mistake". Really? Out of twenty corpers in the headquarters of the LGA, you select just one and it's a mistake? Strange mistake o!
After we had accommodated everyone for 3 days, with no thanks from NYSC or anyone, now only one person was picked?! Obviously, we were angry but at that point we were no longer interested in the registration work. We only wanted the N3000 allowance we were supposed to get for participating in the training. As a group we went to see the INEC Electoral Officer for Ardo-Kola LGA. He assured us that the money had been released to NYSC. Three of us went to the NYSC State Secretariat in Jalingo, having to ply the horrible Sunkani to ATC/Jalingo road.
At the Secretariat, there was a long queue outside the Finance/Accounts Office. Corpers had come from all over Taraba State asking for their money. We joined the queue and waited for hours in the hot February sun. When one of us, a female corper, eventually got in and asked for the training allowance of Sunkani corpers, the NYSC officials there said our names were not on the list of those to be paid. When she persisted and asked why our names weren't there, she was told very sharply to get out. They actually used those words: "GET OUT!" I could not believe it. Can someone please convince me that NYSC has any regard for corpers? What happened to the N3000 training allowance of all Sunkani corpers? It simply vanished.
I finished NYSC and passed out in February, 2011 so I didn't participate in the just concluded elections. I probably should thank God for that going by the number of corpers who were killed during the process. First, we had 3 corpers killed in the bomb blast at an INEC office in Suleja, Niger State. Again, when the results of the Presidential Elections were released and Dr. Goodluck Jonathan was declared the winner, irate and misguided supporters of Gen. Muhammadu Buhari went on rampage. In their mad rage, they suddenly decided that corpers were to blame for Buhari's defeat. Consequently, they began hunting corpers, raping, maiming and killing those they got their hands on.
As I write this, NYSC has still been unable to inform the public of the exact number of corpers who were killed in all the post-election crises, probably because they are trying to hide from us the sheer extent of their ineptitude and inability to secure corps members' lives and property or maybe they don't even know! In fact, from news reports I read on the Internet, the NYSC DG first claimed, after the Suleja bomb blast, that no corper had been killed. Only after it became obvious to everyone that his statement was a blatant lie did he recant it. What a shame. Instead of apologizing, mourning the corpers who had died and making every possible move to protect those who might be in harm's way, the DG was still attempting to cover his already exposed backside.
The stories coming from corpers who made it out of all these crises alive continue to bolster the argument that NYSC and its officials are horrifyingly lackadaisical about corpers' welfare, even when these corpers are facing or have faced life and death situations.
Let's begin with Kano. In that state, some corpers were stabbed, beaten up and brutalized in the violence following the Presidential Election. In a 234NEXT news article, a corper called Jimoh Nonayon said a gang of hoodlums carrying sticks and cutlasses attacked their lodge, shouting "Sai Baba, CPC Sai Baba!" The corpers ran to a police station for shelter but after a while, even the station was not safe. So, they had to make a mad dash to the Bokavo Barracks. While running there, the gang caught up with a few of them and apparently some of those unfortunate ones were stabbed. Now when NYSC finally decided to make an appearance at the Barracks, it was to tell these traumatized corpers that they shouldn't go home. The NYSC people wanted the corpers to remain in the Barracks and still come out to officiate during the gubernatorial elections the coming Saturday. How callous and insensitive! Corpers almost died and still all that NYSC officials cared about was election work. Like a corper called Monday Alidumkwu said, "…it was clear they had no plan for saving our lives. What they wanted was for us to stay back and finish the gubernatorial elections…"
In Katsina State, the actions of NYSC officials were even more deplorable. Corpers in up to 9 local governments, including Daura, Funtua, Jibia, Kankara, Faskari, Malumfashi, Dandume, Zango and even Katsina, the state capital, experienced the violence. Many lost property as churches, corpers' lodges and even private houses which belonged to Christians were attacked. I heard - but this is unconfirmed - that the even the Nigerian Christian Corpers Fellowship (NCCF) Family House in Katsina was burnt to ashes.
In Zango LGA, up to 20 corpers fled to the Nigeria-Niger Republic border for refuge when their lodge, the Central Corpers Lodge was attacked. About 100 corpers in Daura LGA had to sleep outside in the open air in the premises of the Daura Police Station. A corper called Peretimi Apeli from Bayelsa said he only narrowly escaped death. He and 7 other corpers at the Dambukar Lodge where he was staying were warned that an irate mob was coming only minutes before the mob arrived. As they were running out, they even saw them coming. "I saw death," said Peretimi. "That we are alive today is God because if they had met us in the house, I wouldn't be here."
They escaped in a car that drove wildly through the bush and eventually deposited them at the Daura Police Station. Still, their lodge was completely destroyed. All that Peretimi Apeli had left, according to the article, was the faded shirt, pair of shorts and bathroom slippers he escaped in. Many lost their certificates and credentials in the fire.
Now after such a horrific experience, one would expect that NYSC would be swiftly organizing aid and transportation to safe zones for these corpers. But was it? No. The NYSC State Coordinator Abdul Salisu Taura came to the Daura Police Station, by then occupied by over 100 corpers, and gave each corper 1000 naira. He then prohibited them from moving to the state NYSC orientation camp in the capital. This was after the military had opened the camp and were advising all corpers in the state to move there. Did NYSC have any alternative plan? No. According to the NEXT article, Mr. Taura abandoned over 100 corpers at the station for 2 days after forbidding them from moving. Eventually, they decided to ignore his directive and go to the camp. After a lot of hassle, they got seven commercial buses to take them to Katsina under military protection. But the corpers couldn't afford to pay the cost of the trip, which was N14000. Apparently, the NYSC Zonal Coordinator there, a Mrs. Shittu, also couldn't organise the funds from NYSC to pay for the trip too. So the corpers were stuck until a Good Samaritan volunteered and paid the money. Finally, they could get to safety.
The most shocking thing about NYSC's attitude during the whole debacle was Mr. Taura's attitude when the reporters approached him. Listen to this direct quote from the NEXT article:
"When NEXT asked Mr. Taura why he refused them [the corpers] moving to the camp, he denied giving the directive. And when asked what provision the NYSC had made to transport the corps members to the camp, he said it was the responsibility of the Army to provide transportation.
'The army is there. The army is to move them. Like me I am far away now. It will take me about four hours to get to Daura. Let the army move them' Mr. Taura said. He subsequently switched off his phone."
Am I the only one who thinks that Mr. Taura was acting as if he was being unnecessarily stressed? Imagine it! Corpers are stuck at a Police Station, in limbo, their lives and security hanging in the balance and this man, the NYSC State Coordinator no less, is behaving as if everything is fine, as if people are bothering him. It is simply galling. This kind of behavior is exactly why I believe NYSC should be scrapped. You can argue reformation all you want but NYSC cannot be truly reformed until some people are relieved of their duties. It is the attitude of NYSC staff that is destroying the scheme.
Finally, we turn to Bauchi, the state with arguably the worst crisis as far as corpers are concerned. Nine corpers have been reported killed; more are still missing presumed dead. The State Commissioner of Police, John Abakasanya said at least one female corper was raped. This number may not be accurate as some other corpers have said on television that many female corpers were raped in Bauchi. Perhaps these ladies are reluctant to report the crimes because of the shameful nature of rape in our society. Most families prefer not to disclose the occurrence of such acts.
To hear the story of how the 9 corpers died is in itself extremely distressing. At least two of them, Ukeoma Ikechukwu and Adewunmi Seun Paul, were chased by angry rioters chanting "Sai Buhari". The corpers ran to a police station close by for protection but even there they were not safe as the station was overrun by the mob and they were dragged out and slaughtered with cutlasses and machetes. The death of some of the other corpers was even more gruesome. Obinna Okpokiri, and others, fled to the Corpers Lodge for safety when the so-called 'CPC death-squads' started targeting and hunting down corpers for annihilation. As the rioters got closer, the corpers wanted to run to a barracks but it was too late. The mob descended on the Lodge, beat them up, hacked off their limbs, killed them, and then doused their bodies in petrol and set them on fire. Horrific. Atrocious. Heart-breaking.
And all this happened because these young men went to 'serve their fatherland'. It is not NYSC that killed these corpers. But it is NYSC that sent them there. NYSC officials did not run amok in the streets carrying cutlasses and butchering people. But NYSC let these corpers, who had been placed in their care by families and loved ones, be killed. They let these corpers do election work in places with a clear history of violence and NYSC failed to properly secure the lives of these unfortunate young men. Can NYSC tell us please, what plan did they have exactly to take care of corpers in case violence broke out? Did they expect that only those Security Tips handed out at that silly lecture in camp would be enough to save corpers lives?
If NYSC officials care at all about the people they claim to serve i.e. corpers, why have they not publicly apologized to all corpers and even the nation for their complete and utter failure in securing corpers during this electoral exercise? Why did they not quickly organize transportation for all corpers who wanted to go home during the violence? Why did it have to be state governments that did this? Or did NYSC think that all the corpers who were running home were being unreasonable or unnecessarily fussy? Why did it take so many days for NYSC to communicate with the families of the murdered corpers and even to recover the corpses of the deceased as the parents of Paul Adewunmi lamented on Silverbird TV? Why has somebody, for example the DG, not resigned out of guilt for the volume of blood that has been spilt under his watch?
I'll tell you why. Because NYSC has become soulless. Corpers are no longer treated as people but as commodities to be used and abused. Corpers are now viewed as a perennially available workforce who can be thrown around up and down, wherever they are needed, without a care for their own personal feelings or security. Corpers are in fact now slaves.
Nobody in NYSC will resign over this episode because this is not the first time corpers have been killed. The history of NYSC is littered with corpers' blood. Corpers who have died and the perpetrators have never been brought to justice. Why? Because even the organisation that sent them to the places where they were killed does not care. How many times has NYSC put pressure on the Police or other investigative agencies to catch the killers of any corper? How many times has NYSC pursued the murder case of any corper to its logical conclusion i.e. the apprehension of the killer? I've not heard of any such case. They think compensation is enough. But how much money can be worth the hopes and dreams of a parent for his child? Personally, I believe these parents would prefer to see the people who killed their children and those who masterminded the riots rot away in jail rather than having state burials and other ceremonies to 'immortalize' the dead corpers. President Goodluck Jonathan, please pay attention.
I am not trying to demonize NYSC or make it look irredeemable. I am simply stating the facts. Does NYSC have good aspects? Oh yes it does. Without NYSC, I would never have met some of the people who are now my very good friends; people from Sokoto, Taraba, Bayelsa, Enugu, Port Harcourt etc. Without NYSC, I wouldn't have understood a word of Hausa. I always thought the proper response to 'Ina kwana?' was 'Ina gajiya' when actually it is 'lafiya lau'. Without NYSC, I would never have believed it if someone told me there are still places in Nigeria where people live in round mud huts. Without NYSC, I would probably not be as spiritually-inclined as I am now. The experience I had with NCCF was definitely the high-point of my service year. But looking back now, were all these things I gained worth twelve months of stress, frustration, boredom, and poor treatment by NYSC officials? I'm sorry but the answer is no.
If I hadn't gone for NYSC, I don't see any of the things I listed above being lost to me forever. I could still have learnt Hausa. I could still have made friends with people from other geo-political zones. I could still have contributed my quota to Nigeria's development, albeit within my own immediate environment. If NYSC is discontinued today, the only noticeable effect would be the thousands of graduates sitting at home with no jobs immediately after graduation. This is in my opinion the sole usefulness of NYSC. But still, that value is only temporary. After one year of NYSC, all the graduates go home and the sitting at home idle that had been postponed by the service year begins. Unemployment in Nigeria is at such a ridiculously high level that it's a wonder the economy is still running at all. I read somewhere that in Nigeria today, only 11% of graduates in a particular year are likely to get jobs and that of this number, 70% are earning less than N35000. NYSC is useful as a temporary cushion against this trend, but we must never forget that it is just that: temporary.
In conclusion, let me reiterate my arguments. When NYSC began, it had pure and noble objectives. But it is obvious that NYSC today is not fulfilling those objectives. Corpers are no longer seen as valuable helpers but as commodities, which can be recklessly used and treated with very little regard. The scheme is now more of a money-making venture for a lot of people both within and outside NYSC itself. Some governments are now abdicating their responsibilities because corpers are always there to make up the shortfall. And lastly, the scheme is no longer humane. The NYSC bureaucracy no longer treats corpers with human feeling, no longer truly cares or makes provision for corpers' welfare, for their security, for their health, for their comfort, and for solving or tackling the problems they face in their new environment. All that NYSC cares about today is that corpers are present at their place of primary assignment and that they are doing the work they are supposed to be doing. After that, they couldn't care less what else is going on in corps members' lives.
The Federal Government needs to sit down and take a long, hard, thoughtful, and unbiased look at the NYSC scheme. They need to determine whether it can continue at all, or whether the time has come for it to be replaced by something new.
IN HONOUR OF THE BAUCHI DEAD:
ADENIJI, Kehinde Jehleel (from Osun State, BSc. Banking & Finance)
ADEWUNMI, Seun Paul (from Ekiti State, BSc. Social Sciences)
ADOWEI, Eliot (from Bayelsa State, BSc. Computer Science)
AKONYI, Ibrahim Sule (from Kogi State, HND Business Administration)
GBENJO, Ebenezer Ayotunde (from Osun State, BSc. Economics Education)
NKWAZEMA, Anslem Chukwunyerem (from Imo State, HND Elect./Elect. Engineering)
OKPOKIRI, Obinna Michael (from Abia State, BSc. Environmental Mgt.)
TEIDI, Tosin Olawale (from Osun State, BSc. Computer Science)
UKEOMA, Ikechukwu Chibuzor (from Imo State, BSc. Medical Microbiology)
To see a truly horrendous picture of the dead corpers, click this link and scroll down the page:
http://www.nairaland.com/nigeria/topic-656765.32.html