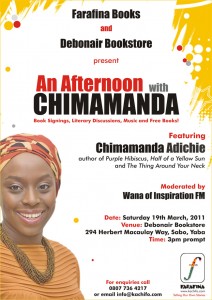 Okay, I admit it, African timing messed me up, again.
I know I had promised before to enter the modern age and dump all these excuses, but you know how it is. Like when I dropped everything to get to an event only to get there and find the table not even set – no bi small thing I tell you.
Anyway, the issue today is not my sense of African timing, but Chimamanda Adichie's reading at Debonair bookshop in Yaba on Saturday 19 March. I had made a note to not miss the event for anything after reading about it in Gbenga Awomodu's blog – even putting off an out-of town-appointment, and making sure my desktop reminder was set to flash every hour from dusk to noon. I know you would wonder how I still managed to be late with all that planning, but make we leave that matter for another day bo.
By the time I arrived the event, Debonair bookshop was overflowing. People who could not find a place to seat or stand inside were lounging by the stairs, the large-size speakers making sure they follow the proceeding by ear, as the sea of heads inside the hall hampered sight. I made my way into the bookshop proper, determined to not just hear, but also to see. After signing my name in the attendance register, I was lucky get a seat – way to the rear of the large hall – curtsey of a young lady who later said she recognised my face from my blog – yes o, me sef don dey get fans small small.
It appeared I had missed the reading proper so had to console myself with the question and answer session. I assure you; even this bit was not beans at all. I have had the opportunity of seeing Chimamanda in action before, so wasn't that blown away by her interactive ability. Well, not quite the way I am sure a lot of the mainly young people in the audience were, but I sure did feel some goose pimples.
I did not go with a tape recorder, so cannot, like a responsible journalist should, give you verbatim reportage, but I still managed to retain, I hope, enough info to grant you a sense of what I am talking about.
Answering that usual question that we, the currently young, have to endure constantly, "what do you see yourself doing in ten years?" Chimamanda did not shop for words. "Writing," She said, but went on to add that she had, like many of us probably had, thought about politics and wondered if she shouldn't give it a shot, even if it is to show that someone can hold an elective position and not loot the treasury. However, that thought, she said, was just a passing fancy, as she would never go into politics.
Anyways, our Chimamanda promised that she intend to continue impacting her society through arts and culture, while leaving those she said were "better equipped for the job" to handle the political terrain.
On the question about her second novel and the Biafran issue, which was central to the plot, she admitted that there is still a lot of discomfort around that topic, but stressed that there is great need to reflect on it. The discomfort, she said, was largely due to the freshness of the event on people's mind as the major actors are still very much around.
When queried about writers block, she also admitted that she gets it once-in-a-while, and fight it by stimulating her mind with the works of others. She also said she does not have any favourite medium, that the choice of writing in the short story or novel form is largely decided by the topic she is dwelling on.
I was awed when Chimamanda revealed that she started writing at age five and got her work published by Citi People magazine when she was in junior secondary school. She encouraged writers to aspire to get their work out, as this will be a great source of encouragement. Rejection, she opined, though painful is not necessarily a bad thing as writers grow when they have self-doubt and aspire to be better.
An ecstatic applause ensued when the articulate writer revealed that her second book "half of a yellow sun" is currently being made into a movie – not Nollywood o! Not that that is necessarily a bad thing, but una suppose sabi my angle – starring Chiwetal Ejiofor.
The question about her writing style and the statement she made about her style being of a more personal nature, which is, relating to personal experiences – hers and that of people she knows – merged, in my crazy mind, somewhat, with a question the moderator, Wana Udobang, asked about the controversy surrounding the sex scenes in half of a yellow sun. No too mind me sha, that was my mischief making mind in motion, thinking about stuffs it shouldn't.
Anyway, I agreed with her response that people who are really into literature would not bother about the said sex scenes. Yes now, they would over the years, have had a healthy dose of it from the books they read for it to be a bother –Ann Rice's "witching hour", somebody.
Well after all too many saids and dones the event winded up, but not before our literary rock star gave an apt answer to a guy that started of his comment with "I am not a reader" – as in he doesn't read, é'wọtagó? She remarked that it really surprises her how it is only back home in Nigeria that people appear to be proud of the fact that they don't read. In other climes, she said, people who don't read are usually too ashamed to reveal that. Though that is talk for another day, I must remark here that "I don't read" syndrome is actually endemic in naija, as in, big babes and big boys are too tush for that here. I think it affects their swagger. Anyways, more on that when I rant about "celebrity reads Africa", coming soon to a computer or handheld near you.
The event ended with a performance by a guitar-playing artist, Dolapo – thought that was a girl's name –, who thrilled the audience with much more than his guitar skills. Three guests who were able to answer questions from Chimamanda's books went home with book gifts from Farafina.
It was a fabulous event, well attended by artsy people like munwa, the usual suspects, and before I forget and is penalised, our freshly minted Editor, RemiRoy, was there live. Did I tell you that we got our copies of Chimamanda's books signed, by the author herself.
Related posts: