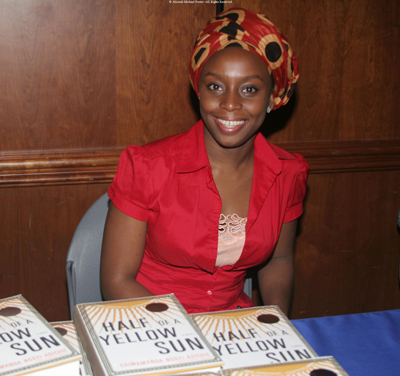 The 4p's of marketing as evolved by Jerome McCarthy in 1960 was later upgraded to include 3 more Ps. The original price, place, promotion and product were later improved to include 3 other necessary factors of marketing, people, physical evidence and process. As with many theories of marketing which are more consistently applied with product brands, the theory of the 4ps has yet to find full expression in its ability to positively impact the equity of service and personality brands.
Literary brands as with other brand types often go through a series of metamorphosis which render them better and more refined. Literary icons such as Wole Soyinka, Chinua Achebe, Ben Okri and Chimamanda Adichie have come to define themselves via their style carving a unique niche thereby making them literary brands to be reckoned with the world over.
The element of product, the first P of the marketing mix has to do with the combination of forces that have culminated to create a product or service offering. It has to do with the market need and demand and also the value which this offering brings with its emergence into the marketplace. In the late 50's when Chinua Achebe made his debut on the scene as a writer of reckon with Things Fall Apart, the literary scene in Nigeria was yet unexploited and Nigeria as a state was without a distinct identity. He therefore used his platform of writing to focus on the traditions of Igbo society with which he was much familiar. Also, in an urge not to be overwhelmed by the colonial culture being imposed on Nigeria and to preserve tradition for posterity sake, he carved out a style which relies heavily on the Igbo oral tradition, and combines straightforward narration with representations of folk stories, proverbs, and oratory. The demand at that time was for a brand offering such as this and this among other reasons account for the strong use of traditional elements in the works of Achebe and contemporary works of Soyinka as well. Chimamanda Adichie on the other hand arose out of the need to remind a generation which has been quick to forget and which shows little reverence for the values and traditions of our fathers. The fast declining culture of thinking and ability to creatively imagine in today's youth has placed a demand for her as a brand and as a literary icon. She unlike Achebe, speaks to a people who have forgotten and have little desire to remember while Achebe spoke and still speaks to a people who have not forgotten but need to be constantly reminded for the sake of posterity.
Price in the economic sense has to do with the monetary value of a brand offering. As it concerns individual brands however, it is an amalgamation of the experiences and unique idiosyncrasies of that individual which make him into the valued personality brand that he is. Achebe, a brilliant scholar was a survivor of the Biafra war.  In 1967 during the war, Achebe became a devoted supporter of Biafran independence and served as ambassador for the people of the new nation. The war ravaged the populace, and as starvation and violence took its toll, he appealed to the people of Europe and the Americas for aid. When the Nigerian government retook the region in 1970, he involved himself in political parties but soon resigned due to frustration over the corruption and elitism he witnessed. The experiences of Achebe has enabled him hold various prestigious positions amongst which are; Research fellow at the University of Nigeria, Professor of English in the same university and Professor emeritus. From 1971 he has edited Okike, the leading journal of Nigerian new writing. He has also held the post of Professor of English at the University of Massachusetts, Amherst. In the1990s Achebe was a faculty member at Bard College, a liberal arts school, where he has taught literature to undergraduates. He recently was awarded the 2010 Gish prize. The Gish prize is awarded to a man or woman who has made an outstanding contribution to the beauty of the world and to mankind's enjoyment and understanding of life and is recognized as one of the most prestigious awards in the arts. Adichie left Nigeria at the age of 19 and moved to the US for college. She studied communications and political science and graduated in 2001. In 2003, she completed a master's degree in creative writing in 2008; she received a degree in Arts and African studies at Yale University. She listened to stories about the Biafra war from her uncle which informed the use of her rich imaginative abilities to project this story into her second novel, Half of a yellow sun. This novel has won 2007 Orange Prize for Fiction and has been nominated for several other prestigious awards.
Promotion, another vital element of the marketing mix which entails creating a healthy awareness for the brand to induce patronage and recognition is used more with personality brands than any other P of the mix. Achebe's most obvious promotional tactics remain his highly appreciated and sought after literary works. These include; Things Fall Apart of the late 1950s No Longer at Ease (1960), Arrow of God (1964), A Man of the People (1966), and Anthills of the Savannah (1987). His lecture An Image of Africa: Racism in Conrad's "Heart of Darkness" became the focus of controversy, for its criticism of Joseph. Beware, soul brother (1971) is a short story about his experiences during the Civil War. He has received a Margaret Wrong Prize, the New Statesman Jock Campbell Prize, the Commonwealth Poetry Prize, and the 2007 Man Booker International award. Achebe is the recipient of over 30 honorary degrees from universities in England, Scotland, Canada, South Africa, Nigeria and the United States, including Dartmouth College, Harvard, and Brown University. He has been awarded the Commonwealth Poetry Prize, an Honorary Fellowship of the American Academy of Arts and Letters, the Nigerian National Order of Merit (Nigeria's highest honour for academic work), and the Peace Prize of the German Book Trade. In 1988 Achebe was asked by a reporter for Quality Weekly how he felt about never winning a Nobel Prize; he replied: "My position is that the Nobel Prize is important. But it is a European prize. It's not an African prize…. Literature is not a heavyweight championship. Nigerians may think, you know, this man has been knocked out. It's nothing to do with that." Adichie is of a time when endorsements and other deliberate promotional strategies have found their core in the field of brand promotion. She endorsed the Fidelity bank brand and was their brand ambassador for some time. Her works which include; Purple Hibiscus, Half of a yellow sun and a collection of short stories Things around your neck have been shortlisted for a number of awards and has earned her the 2005 Commonwealth Writers' Prize for Best First Book (Purple Hibiscus),  the 2007 Orange Prize for Fiction (Half of a Yellow Sun). She has also been promoted via alternative medium and in an information technology friendly era, her popularity and prowess as a writer has a tendency to yet soar especially as she continues to improve and show case her literary expertise.
Place basically stands for distribution. As it concerns our discourse, it refers to where and how these literary brands have been able to extend their influence and their reaching effects. Achebe's book Things Fall Apart, appeared in 1958. It is the story of Okonkwo – a respectable man by traditional standards whose flaw and ultimate downfall was his excessive anger. This novel translated into some 50 languages. Achebe's influence spans Europe, North and South America, Africa, Nigeria and other places in the world. He is widely travelled, has received many honorary degrees and is well and vastly read. His works like most aspects of literature and knowledge in general has travelled many countries and has spread the word as to his prowess and ingenuity in literature and the arts. Many scholars suggest that it was his ardent and uncompromising criticism of David Conrad work "Heart of darkness" that prompted his being shunned by the intellectual society so much so that he wasn't bequeathed a Nobel award for literature seeing that he is overdue for this award. Adiche's work  also tells of her promise as a writer of repute. Her acclaimed novel, Half of a Yellow Sun, tells the story of the Biafra war and how it impacted the bourgeois and the commoner alike. It tells of how a group of persons were marginalized on account of their ethnicity, how they survived the genocide and have continued to thrive despite their troubled history. As a beginner in her career, her works still few are yet to be translated into many languages. Her distribution tactics include those reminiscent of the IT age such as the websites and blogs and these have helped promote her as a brand and distribute her works as a literary icon.
Summarily, the concept of the marketing mix can be well applied to personality brands as well as other brand types and they are indispensable elements in the success of any offering.