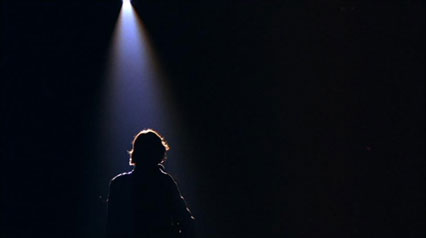 One night, I dey chill for house around eight
When I hear person dey knock for my gate;
I com shout, "Who be that wey dey knock that gate?
"If you spoil am you go weld am this night, straight."
The person reply, "Don't insult me, I'm a graduate!
"I just came to drop a letter for a person called Ate."
I on the outside lights, the place come illuminate
I go outside, take the letter, tell am I appreciate.
I open the letter look am, the first thing I see na date
I come dey wonder why the letter arrive so late.
I waka enter house as my head begin inflate.
The letter talk say I go perform for stage!
On D-day, as I enter motor, one of the tires deflate.
I come waka small, enter okada reach the venue gate.
The seats side dey dark, but light cover the stage,
I dey feel the people eyes, though I no fit see any face.
As I climb stage, my leg dey shake, I no fit concentrate.
I carry microphone, as I wan talk, the thing begin dey gyrate.
I see another mic wey I come manage captivate.
But my mouth don dry like harmattan climate.
I just dey fumble, I no fit communicate.
I do like say I ready, come indicate.
But as I wan swallow, I no fit salivate.
I just dey sweat like say the place no ventilate.
E be like them come dey laugh me for backstage.
Shame catch me, I think say I dey hallucinate.
All the rehearsal wey I do, all don evaporate!
Sweat spread down my trouser like say I dey urinate,
Worst of all, na only me the stage light dey illuminate.
My heart beat dey echo, my body dey vibrate.
I open mouth talk wetin I no fit translate.
After all my ginger, say I be expatriate.
Then if you hear the silence enh, you go faint.
I stumble, I come form like say e dey deliberate.
Na that time my eye come clear! I no dey exaggerate.
I look up, look down, choi! It was very passionate.
So all the sweating and shaking was inappropriate.
The place was as empty as the thanksgiving of an ingrate!