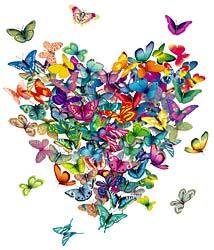 AND MY HEART FLUTTERED
By
BLAISE ABOH
I was going back home, actually home it used to be, for the past one year it was. With my heart heavy like that of 'Thor's hammer' I touched down at the park, smelt the air, oh! I thought, "What a splendor I've missed". The smell of grass, trees, solitude, the smell of mud, thatch, rusted roof tops and the village people living there-in. I alighted from the bus, took a step and my heart fluttered, many scenes started to playback in my head like melancholy dreams; the good times I've had, the bad, the parties, the grooves, the times I've gotten so mad that I almost plucked someone's head off. I remembered one or two people, and then the friars, most of all I remembered "she" and my heart fluttered. Oh God I asked, how I could face her? How could I face this? How could I face my own self? I got to my house, the compound looked deserted save for a little kid poking his head out from the corridor. The inside of my room was dark, and dusty, so I threw the windows open, "that's it, mmhh I love fresh air". I cleaned up and prepared dinner. I had a can malt, laid back on the bed with my eyes to the ceiling, closed it and my heart fluttered. Oh! Oh! It did flutter for the sight which befell me be-dazzled me like the royal crown of Queen Elizabeth. Those eyes looking into mine, those luscious lips, those cur….."What? I can't believe someone just knocked on my door". It was just a friend who came all the way from Abuja for the same thing I came for, he was to pass the night in my place. I told him to feel at home, laid back on the bed again just slightly pissed with him and my heart fluttered, I smelt her perfume, I couldn't remember the name (it's irrelevant), but she who wore it, and that was all I could remember.
I awoke to the thought of having dreamt of a friend asking me for a favor, and my heart fluttered for just then my phone rang, that same person was calling for the same reason for which he came to me in that dream, the same reason that brought me here, the reason which were but unselfish. Soon it was morning, I got out of bed freshened up and took a taxi to the meeting point, I had prepared for this moment, the time to face her, to face this, to face me, and the sum of all my fears and nightmares. Soon as I stepped out of the taxi, I felt burning sensations just as I had flashes of dream capes and dream casts as a million colorful lights shun down on me like the light strobes in a dancing club. But then it wasn't a million lights, but rather a million pair of eyes and my heart fluttered again. I had come prepared, with the charisma and pride of that of a peacock, dressed in a 'David Weg' cross hatched checkered shirt of many colors that I couldn't tell, an out-back denim with suede Intrusion snickers, my aura oozing of 'Bod-pearl-212' on ice concussion. I also walked with the swagger of 'Billy Bob'. I heard some lady say that I had the fragrance of four seasons; Autumn, spring, summer and winter. That my looks were that of the modern day black John Wayne with the Robert Deniro smiles getting the ladies to pop their cans.
And then I saw her, in a blue dress, 'the devil in a blue dress' as I'll prefer to tag her, she saw me first and I knew this just as my heart fluttered, she closed her eyes, flushed, blushed, threw her head back with her eyes closed. What happened then? Was it me, the Blaisafly effect? Did I blind her that moment? Did I have the radiance and sparkle of the moonstone of 'ze lycanthropes et ze vampiris'? Was I 'The shining' which one Stephen King wrote about? And then my heart fluttered for I knew what it must have been. That moment I was that halo on top of the head of a Saint, I was that substance which gives a diamond crystal its glimmer. Yet I was more than I ever imagined; the tears rolling down the eyes of a beauty pageant contestant who has just been crowned queen, the walking human version of the constellations at Orion's belt or more so the tingly feeling of ecstasy of every Nigerian whenever PHCN brings back the light (electricity). Then I took a step and the ground gave way beneath me just as I felt my body soar to her direction. I also saw her fidget and melt just like butter did near fire. I was stunned, I was yoked, I was angry as flint which bore fire. I couldn't get to her in time and my heart fluttered for I knew right then, she'd practically evaded me thus letting me know; that it wasn't the end, that my nightmares wouldn't go that easily, that there had to be an encore, that it was just the beginning.
Originally written by me
Aboh Blaise Ugochukwu
http://aphascea.wordpress.com
aphasceaworx@gmail.com
Twitter; @aphasceaworx