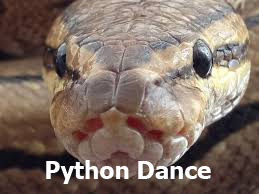 Adaeze was frightened due to the 'huge python dance' that would happen in Owerri soon. She was afraid because she thought that that which happened in Aba might happen in Owerri – how the huge python had multitude for meal. So she slowly let her lacrimal pour out tears, which crawled down her cheeks. Emotional strength overpowered her, as she was afraid of any form of dance that would jeopardize lives. She began to think of those that might be injured or killed should the dance happen now. She sat on the wooden bench, jaw firmly sitting between the gap of her two fingers, and the tip of her elbow anchored by her right lap. Thoughts ran over thoughts, pity was filled with waters of pity-pot, left for its pour.
Mama wasn't happy seeing Ada in her state, so she began,
'Adamma, why are you crying?'
In a reluctant manner, assisted by a weakening voice she replied,
'Is it not the Python?'
'Which python?' Mama asked
'The one that danced at Aba'
Mama was actually considering when pythons began to dance, or would it be that some other animals catwalk also, who knows? She thought.
'Pythons don't dance my daughter, they patrol on their belly – law-abiding patrol alone, but are very swift sometimes'.
Mama was actually considering that it was high time her daughter visited EGBELU, the python jungle in Owerri, so that she might see for herself how pythons patrol. Actually the pythons in Egbelu didn't 'dance' in their operations. They only patrolled according to the ethics that governed the kingdom of Egbelu, and they didn't take laws into their hands, as the Commander-in-Chief of the python wouldn't permit or tolerate that. He always checkmated the python-officers, and ensured that they didn't patrol beyond rules. It was obvious to Mama who knew too well how the ancient pythons patrolled – they didn't harm any innocent souls in the jungle. So, taking her daughter to the python camp would be cool, but second thoughts occupied her mind.
She did all she could to let daughter understand, while daughter kept trying her best to let Mama get it. Mama was an 'old school' now, Ada considered. She didn't understand the social media and what was going viral concerning the 'python dance'.
'Well, Mama, I don't blame your ignorance regarding the python dance, because your old age wouldn't let you understand information that go viral on social media, but I still wish you understand'
'hahahaha, my daughter, you children and social media. Do you know when we started partying with the pythons at Egbelu? Pythons that ate in multitudes, and are still eating – those who deserved to be eaten though. I think 'nne gi' hasn't told that to you, as I narrated to her, and others'.
Adamma thought that Mama was just trying to excite or entertain her by her 'fallacy', not knowing that she meant all she said – she did party with the pythons, popularly known as 'Eke nwe ohia'. She didn't take that seriously anyways, as she turned her face left-sideways, and continued her mourning – thinking that Mama's head was getting weak; considering the difference between 'dance and partying'. She knew that in parties dance is must.
Mama didn't give her chances to be alone while she was a physical company to her – she had always wanted to put smiles on her grandchildren's faces, and Ada's wouldn't be an exception.
'My daughter, don't do this to yourself. Truly, I don't understand what you are saying. Please enlighten me', Mama's countenance said it all, as things began to get out of hands.
'I knew it that you don't understand. I knew it. I am talking of human-pythons, not that of snake. Human pythons Mama'
'Oh, oh, that? You should have told me. You mean Egwu-eke – the one that was declared by ndi a no n'ochichi, nkea ha si ndi soja are shooting everywhere? Well, my daughter, they are highly welcome. As I told you earlier, we have the Python of pythons. I have always told your mothers to help me teach you all our history, about our ancestors, and what Chukwu Okike Abiama is capable of. Here in Owerri, we have tribe of Python of Owerri, like that of tribe of Lion of Judah. They are both the same. He is the Creator of all lions, and both human-pythons and animal-pythons, and the rest. So don't worry my dear, He got our back'.
Ada thought Mama was speaking in riddles, and couldn't catch what she meant by 'tribe of Python of Owerri'. Anyone around could see confusion written all over her, as she let loose her lips, and mouth wide open that any innocent fly could easily dance its ways inside.
'That means this story; PYTHON DANCE is a fiction, and I or any other should see it as such. Well, I pray peace reigns, because I don't want those python stories, either 'Egbe-elu' or any other 'Egbe' dance in any form', Ada soliloquized.
But one thing remained certain to her, that the 'tribe of Lion of Judah is the same as that of 'tribe of Python of Owerri'. And she believed that her safety was rest assured.