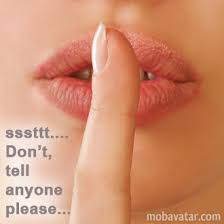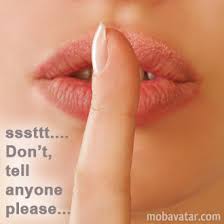 Yes , I'll not tell anybody
but can i tell the the moon
and the countless stars?
They were loyal companions
in those lonely hours,
before u walked into my life
with no clutches , but on bouncing feet
and rose feelings higher than the sky
my only fear is just that
The moon brightens secret
every noon of his life, and
every night, is a day for array of  twinkle stars
to light their mind , and spread it
on the fluffy sky.
Should I tell the tree, who showed me the muse
wherein I got the inspiration
to compose you the poem
that won me your heart
wouldn't it be unfair , if I don't pay
it back?
But know this: it's a defenseless timber
even a toddler could come
for a slaughter,
and soon goes from branch
to flute
and here goes your secret
horn into the word
 boom! boom!
everyone dancing to the
tunes of our secret.
My Dog has gotten a loosen mouth
Jade, the parrot don't even approach her
who will keep us this secret
and keep  it untell?
It's  too hot for my soul to hold
burdensome for the mind to bear
 she says I tell none, if its
truly i care
ugh! ugh!
I can't hold this anymore
I am gasping for breath
I love her, I love her ! and
Shade loves me too
Oh  my gosh ,  and I just blew it  in the  air!