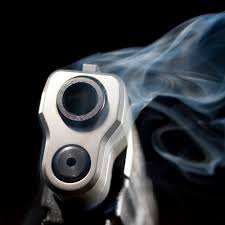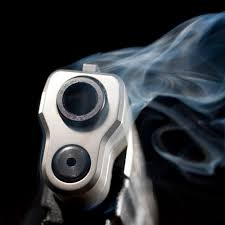 I took off the blindfolds and stared down the terror-stricken eyes of my ill-fated hostages; all six of them. After years of meticulous planning, painstaking surveillance and internet hacking I was able to lure this miserable bunch into a single location and finally prepare to carry out the judgement they all rightfully deserved.
As I became increasingly irritated by the muffled sounds of my gagged victims, I pulled out my revolver and let my aim wander around the Circle of Doom. I opened the gun chamber and pulled out one of the six bullets – this was deliberate as I only planned to execute 5 of my victims. I cocked the gun slowly and glanced over to my first hostage.
Hostage #1 – Adaobi. She was the gold-digger who poisoned my brother in order to cash in on his life insurance.
Hostage #2 – Idris. He was the sick bastard who kidnapped and molested my 10 year-old daughter whom hasn't said a word in 4 months.
Hostage #3 – Pius. He was the selfish landlord who cut off the heating in my old parents place last winter and left them to freeze to death just because the rent was a little overdue.
Hostage #4 – Ebere. She was the raving lunatic who sent our sex videos over the internet to the Accounting Institute. My licence was revoked and she rendered me jobless.
Hostage #5 – Gbadebo. He was the good-for-nothing car thief who took a baseball bat to my temple and inflicted permanent damage to my left eye.
Hostage #6 – Sylvester. He was the incompetent and insensitive bank clerk who refused to let me cash the ransome money…MY OWN MONEY…which I desperately needed to rescue my daughter (all because I didn't have any ID on me, thanks to the car thief).
My heart was down. Their time was up. I closed my eyes and uttered a short prayer – asking for forgiveness for what I was about to do. And then, I shot Hostage #3, then Hostage #1, then Hostage #5, then Hostage #4 and then…I paused between Hostage #2 and Hostage #6.
Idris and Sylvester were crying and pissing their pants as they had just witnessed the sheer brutality of a trigger-happy killer. I spared no remorse as I let my gun go off on Hostage #6. My gun chamber was now empty and I had 5 corpses with bullet holes in their heads. I told Hostage #2 that I wasn't going to shoot him. I took out the cloth in his mouth and he immediately blurted out a million thank you's for sparing his life. He continued crying and awaiting his fate while I turned away from him and proceeded to get my blow torch…