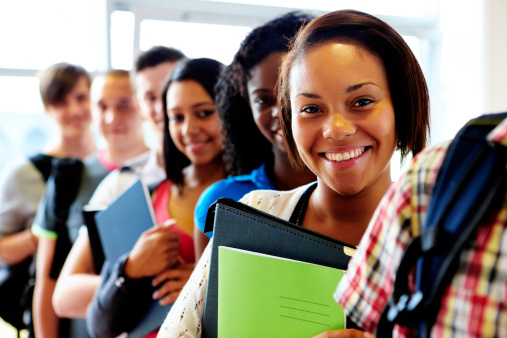 Today will be a new day. I know it will. I can feel it.
I'm going to talk to Ashley today. Even though she never talks to me or looks my way. I've sat behind her in homeroom for four years now and she has never looked back…once. That's okay though, I'll talk to her today. We'll become friends today.
I'm going to answer a question in science class today. Ms. Johnson always stares at me with that pleading look on her face when she asks a question.
It's like she's saying, "Come on, Dami. You got an A+ on the last test. I know you know the answer!"
I do. But I never answer. Today I will.
I'm going to change in the locker room after P.E. today. I always tell coach I'm in a rush and run right out after gym but I never have anywhere to go. She always looks at me with pity because she knows I'm lying but lets me off the hook anyways. Not today. I have just as much right to use the locker room as those other girls do. Today, I'm changing in the locker room.
I'm going to tell Sammy I like him today.  I've had a crush on him for 6 years! He has the most beautiful smile and his eyes…oh, those big gorgeous olive eyes. He is such a dreamboat. And I think he might like me too. I mean, I've caught him glancing at me from time to time during social studies class. I'm going to quit the shyness and just tell him how I feel already. Today, I confess my love to Sammy.
Yeah! That's right! Today is my day! My day! I will be bold, loud, proud, and 100% confident! Today will be different from every other day! Today will be a new day!
Wait. I think that's the sound of a new Facebook notification on my phone. Let me see who it is. Omg, it's a new notification from Ashley! What did she say? What did she say?
At 8:45am, "Wow, it must really suck to look as awful as you. Peace."
Her comment got 45 Likes.
Who am I kidding?
There's no point talking to Jessica, she thinks I'm an ugly loser.
Why would I speak up in Science class? I stutter. No one wants to hear that. They'll either get annoyed or laugh.
I can never change in the locker room. I'm flat-chested…and fat. No one wants to see that.
Tell Sammy I like him? Ha. That's the joke of the year. He's disgusted by me, just like everyone else. He probably looks at me in class wondering how one girl could be so ugly. I was wrong.
Who am I kidding? No one likes me. No one is my friend. I'm a loser. I don't belong.
Today is not a new day.
Today is a very, very old day.