(A review of Kelechi Kemnele's A Bellyful of Words, by Kelechi Njoku)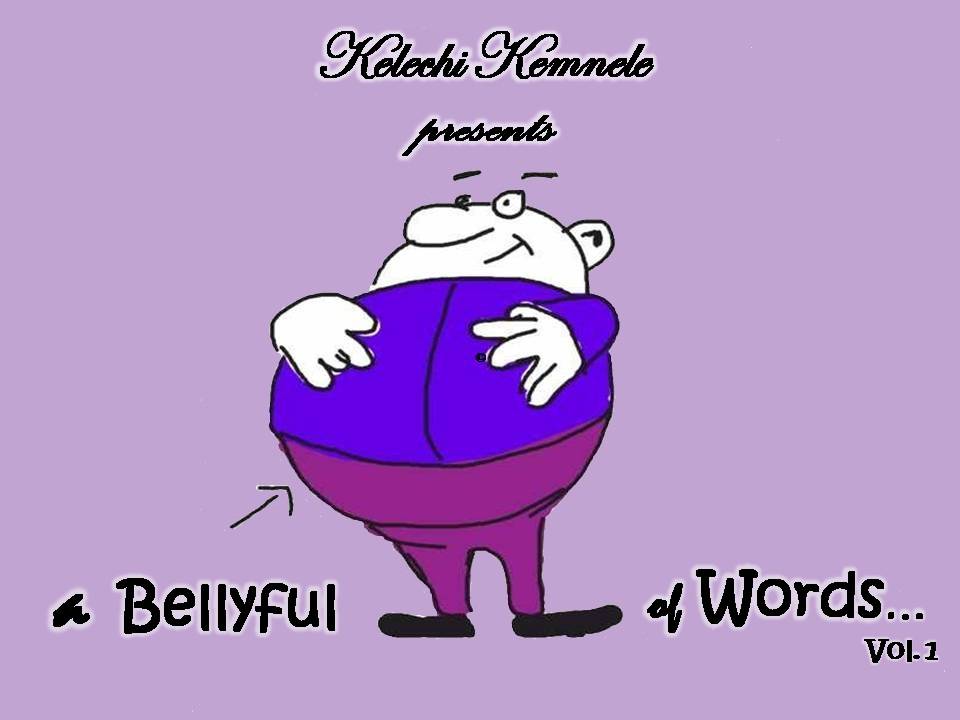 To download click here
The thing about labels is not only that they set boundaries which may not be crossed – at least not without accompanying raised eyebrows – but that they get complicated eventually with frequent revisions of what defines what and what features can be included where.
Kelechi Kemnele calls this slap-on collection of his thoughts an E-Blogzine. I'm not sure what this clunky name (that's what I told him) means. And I don't care either. Some things should be taken for what they are. Or just be taken. Which is exactly what I did with A Bellyful of Words, Volume 1.  This pool of the writer's thoughts at their rawest titillates with an urgency that disregards political correctness and uptight polish. None of the sixteen anecdotes or poems force you to read them, but you do anyway, and discover delights along the way. At the heart of the zine are the everyday things that expose who we are: Drunken boys fooling around at night and arguing whether a passing figure is a man or a woman, until the figure confronts them; a bride moving to the beat of her nuptial dance and having her mind tell us how she came to be here, to be wed to her groom whose mind is busy too, filling us up on past sweethearts and the small lies he deems harmless, perhaps as his bride's white dress.
There is madness here and there, madness suffused with profoundness it is difficult to disentangle them. In "The Thots of a Mad Man's Fan #1" (a prim piece of a little over a hundred words), Kemnele shows us what we can learn from a "madman", how we hold dear the things that may not altogether matter. Like giving too much of a damn about other people's opinions when we can just do and be merry.
In "Matters Arising: Breast Issues," if you can bring yourself to get past the picture of the lipsticked frog wearing a brassiere (good luck!), then you can enjoy this split-personality conversation the writer has with himself on public exposure of cleavage. Which brings to mind the ridiculous politics of public breastfeeding ongoing in some parts of the world whereas we are – daily – inundated with media messages selling boobs and bums.
And while we are on such merry-go-round conversations, we've got steady life truths awaiting us. Here's a slice from "Growing Old":
I don't want to grow old
And end up walking with a stick
But I want to grow old
Knowing I have reached my life's peak…
I don't want to grow old
And have to see at every corner death
But I want to grow old
And spend weekends wondering how to share my wealth
I thought, while reading this, of my impression of old age: at some point I'll have to learn to use a walking stick. And crap on yourself. Without flinching.
Yet "Growing Old" is a message about the coin. When you hold a coin, you are in contact not with one of the sides but both.
Kelechi Kemnele's E-Blogzine comes as an assurance that, indeed, reflection lies in humour, no question. Across these sixteen pieces we can relate to embarrassment because we do not want our trousers suddenly splitting in the middle – in the middle of the street; we realize what a woman might envision when tying her headgear in preparation for an occasion; we are taken back to the mischief that undergraduates must be involved in if that phase of life is to be considered fun and complete; and we are reminded that differences exist largely in the mind because – you see – shouting "Goal!" and shouting "Up NEPA!" carry the same inflections; and the difference between Fuck and Fcuk does not exist because we pronounce them the same way in our heads. ■
To download, click here