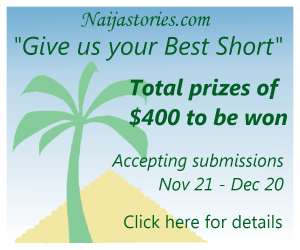 NaijaStories.com is pleased to announce another online writing contest titled "Give us your best Short" to be judged by Chika Unigwe. We want to read your best short story. You can write in any genre, but bear in mind the five elements of a short story – Plot, Point of View, Character, Setting, and Theme. Conflict is not compulsory but it gives your story that extra oomph. We're looking for really good shorts and winners may be selected for the next NS Anthology. So, Give Us Your Best Short!
About the Judge
Chika Unigwe is an award winning Nigerian author based in Belguim. Chika's novel, On Black Sisters' Street, recently won the 2012 NLNG Literature Prize for Fiction. She won the 2003 BBC Short Story Competition for her story "Borrowed Smile", a Commonwealth Short Story Award for "Weathered Smiles" and a Flemish literary prize for "De Smaak van Sneeuw", her first short story written in Dutch. (Read about Chika Unigwe HERE)
Dates for Contest:
The contest opens November 21 and submissions end on December 20, 2012.
Release of the Longlisted Stories – January 5th
First Round Polls and Naijastories Scoring- January 6th – 12th
Shortlist released – January 13th
Public Choice Ratings – Jan 14th to January 19th
Final Judging – January 14th to January 20th 2013
The winner will be announced by January 21st 2013.
Prizes :
First Prize – 200,000 points ($200)
Second Prize – 100,000 points ($100)
Third Prize – 50,000 points ($50)
2 Public Choice Winners – 25,000 points (25) each
Contest Guidelines:
1. You must be a registered member of Naijastories.com.
2. Submit your entry as a post with a title that illustrates your entry.
3. In the body of the post, provide a 1 or 2 sentence summary of your short story and then the complete story;
4. Your entry should be between 1000 and 2500 words.
5. Put the entry in the category of "Best Short" and press the button, "Submit for Review".
Contest Procedure:
Stage 1. – All the entries that meet the contest rules will be long-listed and put to the public poll.
Stage 2. – The Naija Stories team will score the accepted entries. This will be added to votes polled to select the top 10 entries.
Stage 3a. – The Site Ratings System will be used to select 2 top stories for the Public Choice Awards
Stage 3b. – Chika Unigwe will select the top winners of the competition.
Judging Criteria:
– The initial site editor will be checking for clean use of the English language, so polish your grammar and keep typos to a minimum please! We will also be looking for creativity, so go on and give it your all.
– The final judge will be looking for great writing. Be genuine! Be unique! Be original!
If you have any questions, please send a mail to admin@naijastories.com.
Good Luck and Get Writing!