We are pleased to announce that after a period of over a month since the launching of the 'Poems of the Everyday Nigeria' competition, the winners have been selected.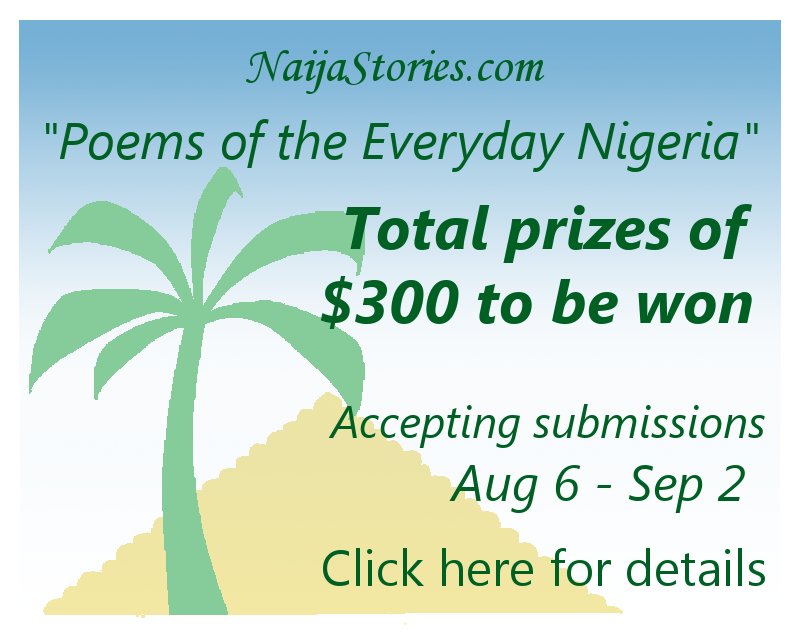 The first prize of $150 or 150,000 points goes to Chemokopi for his poem, Time Wars.
Tola's comments: "I liked this, because it described not just one but two everyday events; the challenge to make it to work on time, and the struggling with an unco-operative digestive system while doing so. I also liked the way it lyrically described the ongoing conflict between the Time (ably assisted by the aforementioned digestive system) and the narrator right up to the climatic moment in the boardroom, with lines like
The Keepers are watching
The long red one is smiling
Ticking away in its glass world
Hanging on the cream wall.
They know Time wins the war
If we advance for Toilet Battles."
The second prize of $100 or 100,000 points goes to Kola for his poem, The Missed Calls.
Tola's comments: This was a poem that spirited me away with its inventive use of imagery to describe something as commonplace as missing a phone call. The phone became this desperate courier, valiantly striving to deliver The Important Message that A Call Was Waiting, but failing to breach the multilayered insulation of sleep. Even the atmosphere in which the phone rang was beautifully described:
Your call came again, for the second time

In the still of the night

While dead silence that betrays needle-drop

Held the earth in its cold grip"
The third prize of $50 or 50,000 points goes to Xikay for his poem, Foolish Plastic.
Tola's comments: This poem shone with wit, even as it richly captured the indignation of the narrator as his card fails to return from the vault of (hard earned) riches with a portion of said riches. I especially liked the opening lines:
The one that keeps my sweated gold
Did make me put my trust in you.
I knew not that your bloodless heart
Would treat me so un-faithfully!"
We offer our congratulations to the winners, and ask that they contact the Admin regarding their prizes.
Special mentions go to the following (in no particular order) whose contributions were judged as being to a high standard:
I Thought I Was A Gentleman – Magic
Unwanted Night Guests – Austin De Poet
The Gentleman – Ohmston Weth
My Little Naija Street – Zazu
Prayer Time – Sunshine
Internetual Love – Bubbllinna
The Morning I Never Had – Oyenwen Odia
The Way Her Light Shines On Me – Jefsaraurmax
Water Rate – Mike
Wed Me I Pray Thee – Mildred Hughes
Again, as this competition ends with this announcement, we would like to thank everyone who has taken part, either by submitting poems or commenting on the submitted poems, and we hope that you have all found the contributions stimulating, thought-provoking and entertaining.