One thing I have always felt Nollywood hasn't got yet is a set of free-minded independent artists that will champion a new 'artistic' Nollywood. I am one of Nollywood's greatest fans… I enjoy sitting at the far end of Ozone Cinemas or Genesis Deluxe cinema screens, getting lost in whatever the likes of Kunle Afolayan (Phone Swap), Leila Djansi (Ties That Bind), Jeta Amata (Inale) and Chineze Anyaene (Ije) want to show the world. I just mention those movies because they are very brilliant Nollywood movies that have in recent times got me excited about the prospects of a Nollywood Oscar
But I haven't been more excited about Nollywood ever as I have been after meeting C. J. Obasi. C. J. Obasi is a twenty-something year old making his first feature film, Jim & Joan: A Voodoo Tale.
First time we met, he came to 'our' small film house to look for an actress for his film. After the introductions, we chatted about everything film. I was afraid to mention Woody Allen at first, it has cost me a few friends (offline and online, mostly females) in the past But after getting more and more comfortable with him. I mention Woody Allen and he seemed to know a lot him than I did. From then on, it was easy to see how much he knew about films and, more importantly, filmmaking.
He also mentions how it seems every aspiring Nollywood filmmaker says his film will be different from what we usually see. But still promises me that his film will be different. I didn't have my doubts that his film will be different. I would find out later. He got his actress, did a little audition, and left.
Two months later, I saw a few clips of the new movie. And he was right. The film was truly different. Artistically, it was brilliant. Even though what I saw wasn't finished yet, I still had the same feeling I had seeing those Nollywood classics at cinemas. He 'knows' each shot. And there was this rawness about the film I hadn't seen in a Nollywood film. After seeing a few clips, I sat back, stayed quiet for a while and told him that he might have just made a Nollywood classic.
Jim & Joan: A Voodoo Tale won't be one of those star-studded over-hyped Nollywood film. It won't try to please you. It won't have all those Nollywood clichés that have bored us all these years. It would be a refreshing experience. A movie that might forever change how Nollywood works. Most importantly, it will make people question C. J. Obasi's sanity. But don't worry… he is just a true artist… an independent filmmaker trying to change how films are made in Nollywood. And even though he is clinically sane, but artistically he should be in the same mental ward with Quentin Tarantino and Lars von Trier.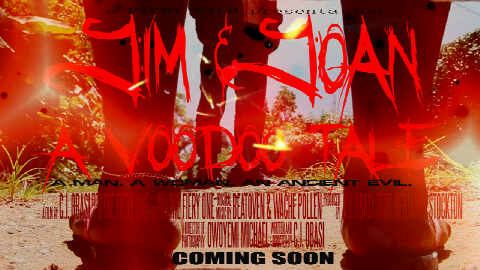 Fiery Film Presents
Jim & Joan: A Voodoo Tale
(A man. A woman. An ancient evil)
Written, Produced and Directed by C. J. Obasi, @fierycj
Executive Producer – Benjamin Stockton
Original Music by – Beatoven and Wache Pollen
Please visit and like the facebook page
http://m.facebook.com/profile.php?v=feed&id=283234758445035&refid=17&m_sess=1TSFmk-tL499Q3X
*Ties That Bind might be classified as a Ghollywood (Ghanaian movie industry) movie.