Kaycee is not the most prolific writer on Naijastories and may even be better known for his ubiquitous and mostly helpful comments on submissions by other writers to the site. He will let you know if he enjoyed your work or not, and sometimes he tells you why. He has written short vignettes from both the writer's and the critic's perspective, and has also written fiction and non-fiction discussing the place of Lucifer, and the reality of Heaven and Hell. However, it is his latest and quite controversial story Sex with my Father that has now earned him the top spot for March. It was our pleasure to find out more about this key member of the site in the following interview. Enjoy…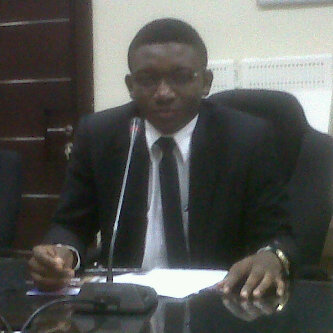 When and why did you begin writing?
I think it was in Junior Secondary. It doesn't mean I have been writing since then. I just think it was the period I knew I could actually be a writer.
As to why I started, well, if u read so much like I did, it's only natural that a day would come when you will encounter a book that would impress the notion that you could do it too, and even better. A BBC anthology of short stories from East Africa and Abubakar Gimba's books gave me that impression. So I represented my school in the Annual School's Carnival of Arts and Festival of Songs (ASCAFS) organised by ANA Niger State chapter, and got my first writing award in poetry.
When I found I could write if I put my mind to it, I lost interest in writing and stuck to my reading.
So far, you've been very versatile in your writing. Which is your favourite genre?
That word 'genre' sounds familiar…
I don't think I have any favourite. It really depends on the story and the thoughts that inspired it. Prose fiction is always easier to pull off. Everybody can do poetry; if you have a good message, the rhymes do not matter, so I don't bother about metre and other measurements. Haven't written any plays yet.
Do you have a specific writing style?
Well, style, style…uh, I don't know about that. I like to write in my own POV. I think grammar calls it the First Person Singular.
Do you have a major theme that runs through most of your work? Like the belief or lack of belief in God or Lucifer?
Lol.
I see why it would seem like there is a recurring theme of God or lack of the belief in God in my works. There are few reasons for that.
First, is that you write better when you write what you know. I swear, I know God. I know the Bible like no man business. If you grew up in my home, you would too. It was that kind of home where to miss morning or night devotion was simply asking to be killed. I stopped all that tradition in my teens. It wasn't easy, but I overcame.
Secondly, I have a degree in Philosophy. Philosophy doesn't make you hate God; it only makes you question all beliefs using reason. I subjected God and religion to my reason. They both scored less than average.
But I was a born deviant; it won't be fair to blame philosophy. I find myself looking at things in a different light, most times the unpopular version. I don't do it for controversy; I just like to represent the other side. And when I do, I find there are salient points in favour of the unpopular.
Plus, the life of an iconoclast or nihilist (mild) is far more interesting. I am grateful to be born one.
I do believe in God, but…
About Lucifer, I like that dude. I love greatness, positive or negative.
Same way I like Hitler and Saddam. It doesn't mean I want to be like them. I just admire the stuff they were made of, their achievements and impact. Imagine the strength and character that made all that impact. It would be more interesting to study Hitler than Ghandi. It would be most interesting to study Lucifer…from a distance.
What books have most influenced your life most?
Ah, that is almost impossible to answer, I don't know if anyone has read as much as I have. Books were my life. I stole them, walked miles to borrow, missed exams for them… My family even thought it was a problem. There was nothing I wouldn't do to get a book.
I can never recall all the books that influenced me. The most influential books in my formative years were nameless, and untitled. Those ones you find under the bed, or in dusty cartons in an uncle's house, the kind of books without cover and starts from the middle pages and ends anywhere. Those books thrilled my childhood.
I remember Gobolino the Witch's Cat; I remember Pace Setters and African Writer's Series. I loved Cyprian Ekwensi's books: Juju rock, Passport of Mallam Illiya ; Nigger at Eton, by Dilibe Onyema and ….many, many other books. Recalling these books is almost tearful. I miss characters like Wilson Tagbo, Shettima, Tom Sawyer… do they still have all those English Readers in schools?
 But for God, James Hadley Chase would have turned me criminal.
Above all, MARK TWAIN is the greatest influence on my writing, and on my reading pleasure.
What books are you reading now?
 None.
Over the years it has proved increasingly difficult for me to find a book that would hold my interest. I mentioned this wahala to Seun Odukoya months ago. He understood. All my favourite writers are dead or are dying on me. I lost Sheldon, I lost Ludlum; many died before I was born.
After reading Ludlum all other CIA, espionage works couldn't grab me anymore. Patterson felt like a watered down version of things. Much Grisham made me lose interest on other law fiction writers. I am waiting for the latest from Grisham, Baldacci, Deaver, Soyinka and some other good guys. I am so used to the masters that I can't read anything less. But the masters are all gone or dying, or yet to publish new works.
So, I am at a loss.
Are there any new authors that have grasped your interest?
Not really. These new authors just write with the voice of the old masters. It's not the same. Instead of having originality we are having "Nigeria's Stephen King", or "Africa's Ludlum", or some other comparison. The new authors lack their own distinct identity.
My fellow NS Musketeers (@seun odukoya, and @raymond) would soon come into their own.
Do you have a writing mentor?
Mark Twain, Mark Twain!!
Soyinka is Deputy Mentor.
What are your current projects? Any goals for 2012?
 Yes, I will be publishing my novel, UNHOLY BIBLE: King Lucifer's Version, in May, and a collection of Short stories in September.
There is also this marriage project that I am cultivating…abi that one no follow for the project? (Yes o, congrats! Ladies, he's taken!)
Who has supported you the most outside of family members?
No one. Not even family.
I hear a writer is supposed to be a loner.
I don't mind.
Do you see writing as a career?
Haba!
There is no other career.
Can you share a little about your writing with us?
I am first a reader. Will always be one. Everything I know about writing came from reading other works. I have never studied English or grammar. My work suffers for it. I tend to use a lot of full stops because I don't know where to put the commas and those other semi things. Writing gives me joy. I get so excited when a story idea props up. Some times it is difficult to reproduce in a work the exact picture or feeling we have in our minds. Sometimes the right words fail to reveal themselves. It is same with other writers, I hope?
 I still regret that I didn't read Literature and Arts, instead of sciences in Secondary school. I am sure it would have made a lot of difference in my writing.
I'm finding lots of joy in blogging too. There is nothing like interacting with fellow writers. The effect is awesome. That reminds me
Join me on:
Is there anything you find particularly challenging in your writing?
Major problem I find in writing, like I said earlier, is that I know almost nothing about punctuations. And I also lose interest too fast and too frequent. If I happen to start a story and for any reason stop midway, that would be the end of that. I have hundreds of unfinished works that I can't for the life of me remember what I was thinking when I started them.
I just know that I have the imagination and talent for writing. If I can ever learn the ropes entangling grammar and sentence construction, I would be a very good writer. But it is a very hard matter.
Who is your favourite author and what is it that really strikes you about their work?
MARK TWAIN!!
His sense of humour is incomparable.
He is the funniest writer I have ever read; funny without being silly.
Reading Twain has made humorous writings the only books I want to read.
If you know of any good humorist, please, let me know. I want to read them. (Check out Lola Shoneyin and Adaobi Nwaubani)
What do you think of the Nigerian publishing industry?
We don't have publishers in Nigeria; we only have printers and photocopiers.
What comments do you have about the reading culture in the country?
 I don't know where people get the notion that Nigerians do not read. That is so not true. I wouldn't have gotten so much books to read if it were so. I personally don't know anyone who does not read.
I remember how we used to queue up to get a copy of Hints magazine and Reader's digest, and all the romance novel our ladies consumed.
Do we even want to talk about the Sport papers and their millions of readers?
If Nigerians find what they want to read, they will devour it.The problem is not from the readers but from the writers, book distributors and publishers. Nigerian books do not get enough exposure, and the ones that do are not what Nigerians want to read.
A lot of Nigerians read the Harry Potter books. Why? They liked it, and it had exposure. Nigerians have had enough of Chinua Achebe and Biafra and all the other depressing books written by Africans. Only the west love African stories of war, butchery and disease.
You think any Nigerian would have read Adichie if not for the accolades from the west? She still has more sales outside the shores of Africa than within.
Do you have anything specific that you want to say to your readers?
My readers should expect some shocking themes carefully tempered with humour.
Above all, they should always bear in mind that a writer is not always his work, and that a writer is not altogether in agreement with the views expressed in his works, but rather is putting these views out to be aired and observed, or just simply as a work of art to be appreciated and enjoyed.
And now to more lighthearted stuff
Ice cream or chocolate?  
Neither.
Football or Basketball?  
Neither.
Ebook or paperbacks?  
Paperbacks; ladies like guys that carry them around.
Salty or sweet?  
Salty.
Beach or mountains? 
Mountains. Definitely mountains.
Phone call or textmessage?
Text message.
Early bird or night owl?  
Night…man.
Dog or cat? 
Neither.
Messy or neat?  
Neat
Heroes or Villains?
Heroes are boring.