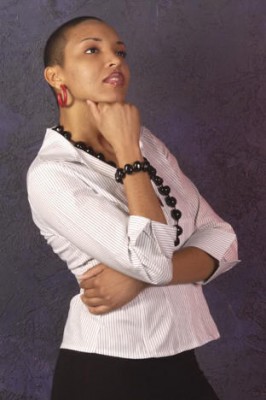 I sat down dazed; staring into my orange juice as if I expected it to change its colour.
"Did you hear me Ngozi?"Dele asked waving his hands before my face. I looked up at him without responding.
"Well, I think it's high time we took our relationship to the next step". He repeated
"Next step?" I said squeezing my eyebrows.
"Yes, the next step and don't give me that attitude. You know I'm not talking about a staircase!"
"Of course not!" I retorted giggling aloud.
Dele leant forward in his chair and held my hands in his own. "Ngo darling. I think we should start thinking about getting married".
"Uh! Oh! Really!" I said
"Is that all you're going to say" Dele questioned, looking disappointed.
"I don't mean it that way. I mean I'm happy that you're thinking seriously about our relationship. But all the same, marriage needs careful consideration".
"Then, you can start considering the options you have right from now" Dele said through tightly pressed lips.
I knew I had gotten him angry but I couldn't help seeing matters in a different light. I watched him silently as he rose up to go; kissing me lightly on the lips and promising to see me sometime later.
I don't actually know what is wrong with me. Most of my friends think I'm weird. But I'm just being reasonable since I don't live in Alice's Wonderland; I don't have a fairy-tale view of marriage. Of course, I enjoy the flush of emotions that come with the exciting proposal and the aftermath wedding ceremony, but it all ends there.
Dele is every girl's dream. He has a good job, a nicely furnished 3-bedroom flat, a chic car set off with a good physique and a likeable personality. He is caring and romantic; maybe not in a sentimental way. Dele is not the westernised version of the African man. He tends to be practical. For instance, he considers it a waste of money buying cards or flowers for me. He will rather buy me edibles or items that will have a lasting impression such as clothes. I don't really mind his choice of gifts and I agree – I no go chop flower! Even his style of broaching the marriage topic shows his African mindset. He didn't think it necessary to take me to a special place for a candlelight dinner with exotic food and drinks and an ice cream dessert with a hidden engagement ring. I don't really care for the display but it would have been a nice story to tell my friends.
My phobia for marriage started way back in my teenage years when I was privy to the marriages in my family.
It had all been Dad's idea as the eldest son in the family. He thought it would be a wonderful thing to have a family reunion in Ochara village during the Christmas holiday.
The squabble started from inside the car. Mummy kept fidgeting in her seat; shifting nervously whenever Dad increased the speed. The more she shifted, the higher Daddy accelerated. Then, suddenly she let out a piercing scream as Dad overtook a trailer. Dad got confused and he almost swerved in front of the trailer. I guess Dad was somewhat shaken by the narrow escape we had from a collision because there was no angry outburst as I had expected. He just parked at the side of the road; inhaling deep puffs of air. Mum was looking very scared like a child who had just stolen meat from the pot of soup and was caught in the act. The journey was chaos free from that point onwards; even Emeka and Nwakego were unusually silent.
I had woken up to shouts of – Nnabiala, welcome, welcome o! as we entered Ochara village. The children were chasing after the car until we got to the house. Nnene had come running out of the house; she hugged Dad first and then pulled Mummy's hand – "Welcome, my wife. Ha! Ngo, you've grown so much o. You even have some cushion cushion on your chest now!"
"How fast these children grow", Nnene said as she enveloped Emeka and Nwakego in her abundant arms. I carefully evaded her stifling embrace and went inside the house. I had barely entered when I heard a car driving in. I watched through the window as my uncle, Chidi got down from his car; he embraced Nnene first and turned to Dad.
"Oponku, Agwu" Dad said as he thumped Uncle Chidi on the back.
Uncle Chidi's wife had remained seated in the car, eyes downcast. I wondered whether it was true that she had no womb as Nnene had said. Nnene moved to the window of Uncle Chidi's car; peering inside as if she was searching for a lost item.
"I know it has not changed. Your stomach is still as flat as ever". Nnene spat on the ground and angrily turned away.
"No, Mama, don't let us start on this bad note. Dede promised me you will treat Linda well, that's why I came." Uncle Chidi protested.
"Yes, Mama, let there be peace", Dad said appealingly to her.
"Biko, what did I do wrong? Ehn? Did I bite her? I just went to check whether she has added flesh to her bonga fish body!" Nnene whiffed past them into the house; pulling Mummy along with her.
Dad took Uncle Chidi aside, talking to him in low tones in a bid to pacify him.
I turned around because I heard some movements behind me.
"Aunty, I didn't know you had arrived" I said as Aunty Nkiru's cold eyes bore into me.
"Hmm, Ngozi, how are you? We arrived early this morning. We had a night journey", she said. Aunty Nkiru always spoke with her teeth clenched and her lips barely moving which made her voice low and guttural.
Dad and Uncle Chidi entered the house then.
"Oh! Nkiruka is this your face? Mama didn't say you were around already" Dad said as he hugged her.
"Dede, Welcome!" Aunty Nkiru replied
"Are you not going to greet me, Nkiru agbefi " Uncle Chidi teased.
"You big head, so I'm an ant ehn? You'll never change. Where's Linda? Aunty Nkiru said pulling at his ear. Dad had told me that Aunty Nkiru used to wrestle with Uncle Chidi like a boy when they were children even though she was the younger one.
Aunty Nkiru's husband came into the room to greet us.
Uncle Chidi whispered to Aunty Nkiru – "Your Ngbati Ngbati husband". Aunty Nkiru pinched his arm playfully.
"Welcome sirs", Uncle Femi said, bowing theatrically like an actor in those American films.
"Femi, of course you remember Chidi, my naughty brother and that is his wife, Linda", Aunty Nkiru said, pointing at Aunty Linda as she entered the living room.
"Good evening everyone" Aunty Linda greeted without looking at anyone in the eye. I pitied her because of her dejection.
"So, we are all here except for the family's black sheep" Dad said heaving a sigh. I knew he was referring to Uncle Alex who was secretly my best uncle because he didn't treat me as a child like the others. He used to discuss serious issues with me even though I couldn't understand most of the complex terminologies he used. I looked forward eagerly to seeing him again.
I was suddenly shaken out of my reverie as Precious, Aunty Nkiru's daughter jumped on me.
"Ngozi, you've grown taller than me. Mummy told me you also applied to Fortune University. I'm so happy about that because we'll be seeing a lot of each other. I can't wait to drive all those boys crazy with my pretty cousin on campus" Precious chattered, whispering the last part about boys into my ears.
"Let us go to our room" Precious pulled me along upstairs to the room. My box was already on the floor by the bed. I looked around the room I would be sharing with my cousin. It had all the comforts I had back at home. However, it all seemed out of place since we were in a village that didn't even have pipe-borne water or electricity.
"Do you use all these things?" I asked Precious, pointing at the large array of cosmetics on the dressing table. She let out a tiny chuckle – "They are mine but of course I don't use it all at once", Precious answered giggling loudly.
"You don't use make-up." She said looking me over. "Don't worry, I will show you how to trim your eyebrows like mine. You like the way it is shaped, don't you? She asked.
I just stood there nodding my head.
"You've not changed a bit Ngozi, you're still so quiet" Precious commented pursing her lips.
She suddenly tickled me under my armpits and I burst into laughter. I started chasing her all over the room to tickle her back and we ended up on the bed exhausted and laughing.
The awkwardness started at the table that night when we were eating the evening meal. I was enjoying myself because I love yam porridge and I particularly like it when vegetables are mixed with it. So, I was concentrating solely on my meal and not listening so much to the banter going on around me.
"Bush woman", Precious whispered to me, pinching my thigh under the table.
"Who?" I asked
"Not so loud! Bring your voice down. Of course I'm referring to Nnene. She can't use cutlery to eat."
I looked over at Nnene at the head of the table digging into her plate with her fingers and licking them nosily afterwards.
"Is there something wrong with your food, Ngo?" Nnene asked. She had caught me staring at her.
"No, Nnene" I mumbled. I like the way you cooked the porridge. It's very tasty"
"Thank you, my daughter. I don't blame you for enjoying it when all you eat at home is white man's rice all the time. I remember the last time I came to Lagos and your mother cooked frying rice and put raw vegetables on it. Tufiakwa, I didn't eat it o. I told her to give me gaari and my ofe nsala." Nnene said laughing as if she had just told a very funny joke.
I could see my mother was angry and I avoided meeting her gaze.
"Mama, it wasn't frying rice I gave you. It is called fried rice and the vegetables on it weren't raw – it was salad." Mum replied fuming.
"You can call it whatever you like Obiageli, but it's still not food to me" Nnene replied smiling.
Dad just pretended not to hear the exchange between Nnene and Mum. He concentrated on his plate as if he was searching for something in the food.
Aunty Linda kept whispering into Uncle Chidi's ear as if she was afraid to talk out aloud and Aunty Nkiru looked like a hawk waiting to prey on a chicken as she went on reprimanding Okechukwu for eating too fast.
"Honey, leave the boy alone. He will learn good table manners in time" Uncle Femi said imploringly
"No, please don't spoil these children for me. You are treating them like butter and milk and if I stop talking, I'm sure they will soon get rotten" Aunty Nkiru chided
"Oke, the food is not running away. If you continue stuffing your mouth, I will take it away from you" Aunty Nkiru threatened.
"Yes, Mummy" Oke said looking at Emeka and Nwakego who had almost finished their food.
Uncle Femi tried to intervene – "Honey, I said…". Aunty Nkiru cut him off sharply – "Femi, it's enough! I don't want to hear anything from you again". Uncle Femi just continued eating his food with a permanent sheepish grin on his face.
The atmosphere was tense as everyone pretended not to have listened to their exchange of words. I wondered if Uncle Femi was Mrs. Femi in every aspect of their relationship. The silence was suddenly disrupted by the boys in the living room.
"Uncle Alex, Uncle Alex", they screamed.
I rushed out of the dining room and collided with Uncle Alex at the door.
"My favourite girl, you are as tall as me now" he said as he embraced me.
"Chineke!, is this mad person my son?" Nnene shrieked.
Everyone directed their gaze to the door and looked at Uncle Alex. He had long dreadlocks on his head and an earring dangling from one earlobe. He wore a crazy jeans that was slashed in several places and a T-shirt that had 'MISCHIEF' written across it in big red letters.
"Hello everyone!" Uncle Alex bellowed in his loud voice.
"I'm quite famished, can I have some food?" He moved towards Nnene and hugged her while she stood stiffly.
"Dede, how are you? Hope you had a smooth journey? And what about you, Chidi? Uncle Alex asked in a bid to break the stiff silence.
"Oh! I almost didn't see you, Nkiru and your ofenmanu husband! Uncle Alex said pumping Uncle Femi's hand. Uncle Femi still maintained his friendly grin, although an embarrassed look was slowly settling on his face. Aunty Nkiru just hissed; ignoring Uncle Alex's presence. She stood up swiftly to leave the room and when she got to the door, she paused for effect – "Alex, listen well and good, because you've come again with your troubles. Make sure you stay off my path, o.k.?" Aunty Nkiru bluffed pulling one of her ears. Uncle Alex just smiled back at her; unperturbed by her arrogance.
"Hey, Nkiru!, Nkiru! come back here, when did we all arrive here that you've started aiming for each other's throats ehn? Answer me!" Dad said trying to gain a sense of control over the situation.
"Dede, I'm sorry. You know how disrespectful Alex can be", Aunty Nkiru apologised for her rude behaviour and went off to her room.
"Now, Alex you'll have to behave well and be in everyone's good books if we are going to have any peace at all", Dad said facing Uncle Alex.
"I'll be good, I promise," Uncle Alex said smiling.
I noticed Uncle Chidi had not said a word since Uncle Alex entered the room. He tugged at his wife's hand; signalling they should leave the room. As he left, he gave Uncle Alex such a fierce look. "Remember, keep to your territory" he said as he passed by Uncle Alex and left the room. I couldn't imagine what had conspired between these two brothers.
Precious sat daintily on her chair; looking thoroughly amused by the whole scene that had just ensued. Nnene sat with her hands clasped in her laps; staring into the air. Mum stood up and started clearing the plates. I moved to help her but she rebuffed me sharply. I wondered what was wrong with her too. Dad was disarmingly picking at his teeth and grunting in satisfaction annoyingly…