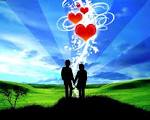 In the crack of yesterday's sunrise
I torment myself with many idiotic memories
All men past the age of twenty have learnt
Somewhat of the tricks of women
The pretty playful nothings
That weaken the will
And sap the force of the strongest hero
My best books warned me against women
Truly, I accepted the warning
Amidst scorns by amorously inclined companions
But their cynical teases surmised in weakness
Never affected me
I trusted in friendship rather than love
But I now know that
No man will taste life till he
Sips the nectar from a pair of lovely lips
No man can guess the riddle of the stars
Till he gazed deep down into the fathomless glory of a maiden's eyes
No man can know delight till
He clasped eager arms around a coy waist
This is a truce to my musty volumes!
Believe it; those ancient philosophers had no manhood in them
Their blood was water
Their slanders against women were but
The vain utterances of their own deserved disappointments
Those who miss the chief prize of life
Would strive to persuade others
That it is not worth having
I have reached epiphany
Just this morn, as I heard the sound of singing
I stood still and waited
And then all suddenly
The picturesque beauty of the scene danced before my eyes
In a whirling blur of brilliancy looked forth one face!
One face beaming out like a star from a cloud of amber tresses
One face lighted up by two bright eyes,
Large and black as night
One face in which the small, curved mouth smiled sweetly
I gazed and gazed again, dazzled
Beauty makes such fools of us all!
This was a woman
One of the sex I mistrusted and avoided
A woman in the earliest spring of her youth
Her veil had been thrown back by accident or design
And for one brief moment I drank in
That soul-tempting glance,
That witch-like smile!
At once, the vision faded
But in that breath of time one epoch of my Life had closed forever
And another had begun!