These stories are true life experiences i've had while in Public Transport on our beloved Nigerian Roads. Although its based on true occurrences, poetic license is used where necessary.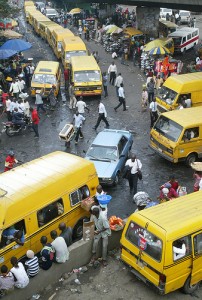 Its late Saturday morning and I decided to embark on a journey from location 1 (my house) to location 4 (my destination). There are also locations 2 and 3 which represent the bus stops in between my home and destination. Location 0 also features in this story but it is not along the route of my journey.
The journey started out uneventful, only punctuated with semi-normal occurrences such as taxi drivers driving recklessly, burial crews hanging out of windows and boots as well as sitting on the roofs of moving vehicles while passing, Church goers shoving fliers for their upcoming programs in the faces of passengers in moving vehicles, etc. All in all, a normal journey. The only comic relief came when one of the "flier peddlers", after giving the guy sitting beside a copy, noticed that he immediately began fanning himself with it. In a move which must have been to salvage the situation, he made a sweeping statement that "next year, na A/C go dey blow you for your office". My neighbors simple response to this was "That one sef dey" and he resumed fanning himself. For some reason this cracked me up and it took a while before I could control my laughter.
A few minutes later, I was at location 4 and I alighted from the taxi with my belongings and two fliers inviting me to the same program.
After finishing up what I went to do at location 4, it was time to enter our beloved Nigerian Roads again on my way back home. Now, this is where all the "fun" began.
Location 4 was a beehive of activity made ever more evident by the cacophony all around; the source of which cause was soon evident. There was an abundance of passengers and no taxi/bus in sight. The few that came saw people rush to enter and those not quick enough are left behind. After a couple of minutes of standing and waiting, a taxi stopped right in front of me with space for only one passenger and I quickly hopped in.
First thing I noticed once in the taxi was that it seemed too small. We were just 3 passengers at the back, and yet there didn't seem to be sufficient room for us to sit with any modicum of comfort. My shoulder was effectively glued to that of my immediate neighbor and I had began to notice the tell-tale signs of loss of blood flow to my left leg. I took this all in stride and decided endure till I get to location 3. This wasn't the most uncomfortable vehicle I had been in after all … and then the talking began.
I guess they had been talking all along but I hadn't paid notice because at the time, I had more pressing matters to attend to. Ordinarily, others talking doesn't bother me while using public transportation. Even when they are speaking a language which I don't understand, I just tend to tune it out and look at something interesting outside the window or look into my mind for something to distract myself with. When they use a loud voice while talking though, especially while in a "hold up" situation, I begin to get irritated. I get even more irked if the person talking the most is sitting right beside me and since our shoulders are glued together, whatever animated movement that is made to punctuate the strange sounding conversation is immediately transmitted to my shoulder.
Now imagine having all these factors rolled up into one and dished to you in a taxi from location 4 en-route to location 3. That was the situation I found myself in and there seemed to be no way out.
About halfway into the journey, after spending almost 20minutes barely moving on the express way, my neighbor seemed to realized that we were moving nowhere fast and she asked the all important question "What is causing this sef?". Ah! Finally something I can understand. Better still, probably because she was waiting for a response or maybe she was using the opportunity to rest from all the talking, I got some much needed peace and quiet… then the singing began.
At a point, I convinced myself that I was an unwilling participant in MTV's "Boiling Point" show and any moment now, this woman beside me would tap me and say something like "Since you have been so patient, we are awarding you $100 cos you've just been a participant on MTV's boiling point!", and the whole taxi would erupt in cheers and laughter.
No such luck.
I persevered though, half hoping to be rewarded with $100 dollars sometime before getting to my destination. Finally, I got to location 3 and a feeling of both relief (from the noise and overall situation) and disappointment (from not getting any money for my effort), I alighted and almost fell down.
Now, If you are a keen reader, you would remember where I mentioned that blood was not circulating into my left leg as a result of my sitting position. Well, by the time we got to location 3, I couldn't feel my left leg at all. I had the sinking feeling for half a second after I got off the taxi that there was nothing there and then I looked down to find it there, on the ground already no less, but with absolutely no feedback. I stood right there on the side of the road, not daring to move until about half a minute later when I began getting some sensation back in my leg. I had to stand and do a little walk about like a cripple for another minute or so before regaining full sensation and function in my left leg. At least, I got to location 3 in one piece. Now, to go from 3 to 2. I believed the worst was behind me and I was in for another session of uneventful travel till I get back home.
I was so wrong.
To be continued…
image courtesy Sunday Alamba on Flickr