Editor's Note: Tejiri Odu is the agent representative of Phantom House Books and in this interview, he answers questions on what prospective clients may want to know before signing up with his agency.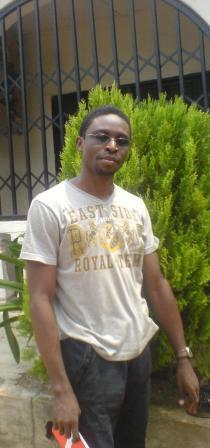 1. What Genres do you represent?
Actually different editors, different genres. I prefer fiction, from commercial fiction all the way to experimental fiction. I also do poetry. The last piece I finished up was Inspirational/Religious. But, Phantom House Books covers all genres.
2. What plans do you have for marketing the work of your clients?
Like I mentioned earlier, the business is fluid. We strongly believe the new audio book technology will work in Nigeria, but do not believe solely in one way to break into the market here. We've began talks with the British Council and ETF Nigeria to kick off diverse projects as well. Everyone of our clients is entitled to having their audio works generated, but we'll see how far that goes. The Agency intends to amass the published creative works of many aspiring writers, so when the British Council writer-mentorship program comes again, their works will be reviewed and selected works will be pushed on to grander publishers or distributors. But the important thing to us, is getting these writers 'out there', and having all the relevant bodies know they are out there. So, if you strongly believe in your manuscript, previously published or unpublished, no matter who you are or where you hail from, query us. We'll probably publish it for you and make it easily accessible to these organizations. DO NOTE; we only sponsor really, really, and I can't fail to stress the word, 'really' good manuscripts. So, I suggest you do a lot of editing and hire a pair of eyes before you submit to us. Although we get lots of queries and manuscripts everyday, we always go through them honestly. If you're Nigerian and you have a good script. We can never turn our eyes from it. I know I can't.
3. How much do you charge? Do you charge for expenses? How much is your commission?
Concerning how much we charge, it depends. $0 or N0 for sponsored manuscripts, which is inclusive of editing and production expenses. All other manuscripts go for $10 per manuscript for editing, and $100 dollars for our book 'n' print package. Concerning literary representation, you'd have to sign our contractual agreement, which comes default for all who use for our book 'n' print package. Else, you'd have to contact a Phantom House agent for already published material, and your publishers as well to know if you have the full privilege of signing your work to us. We take 15% (not a kobo more, and not a kobo less) off whatever deals we make on your book's behalf.
4. How many publishers will you send manuscripts to? How will you send it, individually or as a batch job with others? Will it be to only Nigerian publishers or also international ones?
Local and foreign. Batch.
PN: Phantom House Book Award consideration package submits for foreign agencies and programs for award consideration.
5. What sort of agency agreement do you have? Written? Oral? What is the duration of the contract?
A written contract. The duration of the contract is flexible, but at first signing lasts a year. The author has the choice to renew the contract after a year, and set the duration between the span of 1 to 3 years (max.) The contract is binding on both sides, but also comes with an exit clause. The author reserves the terminate the agency's contract within 1-72 hours after it was signed. We use digital signatures. For more on this, and its use, visit our blog site, phantomhouse.wordpress.com
6. What happens to the unsold rights after the contract is terminated. Does the agent retain control, or do they revert back to the author?
Here at Phantom House Books, you own a 100% of the copyright. Hence, you reserve all rights save on the life expectancy of agency deals, where we maintain a steady 15%.
7. Are you the only agent for the Phantom House Publishing in Nigeria, or will writers have to work with other agents too?
No. Nigerian writers deserve the best and my fellow editors and I will do our best to bring it to them. Thank you.
8. If you feel the manuscript or proposal needs edits before you begin pitching the book to publishers, what will be the next step? Will the writer have to pay for edits?
If sponsored, no. otherwise, probably. Depending on how much work needs to be done. But I can't reiterate how important it is for you to lend another pair of eyes to review your manuscript before submitting to us, and avoid editing fees. See our blog post on how to do a D.A.R.E review | a simple guide to a professional review. No pitching is done, until your manuscript is ready for print.
9. How can people contact you? Do you have a website, and what is your email address?
You have my private email. I don't disclose it. The agency and Phantom House Books has a centralized mailing system and a mailing list. All emails are automatically forwarded to every agent. To contact the agency, use the submission procedures on the website. After that, Phantom House Books Africa will contact you. To visit the official website or blog site go to www.phantomhouseafrica.co.cc or phantomhouse.wordpress.com
10.How many authors do you currently represent? How many of your current clients are published?
In total, Phantom House Book represents a little over 200. For Phantom House Books, Ngr, the number is 25 and counting. In the meantime only 2 authors are through finalizing their contracts. One in Lagos. the other in Abuja.
11.What are your expectations of your potential clients?
We get flooded with lots of work, so we expect our clients to put a lot of work into their manuscripts before submitting. I'd suggest joining a critique group or an online literary society. Everyone loves a talented musician, but people prefer a talented musician whose gone to music school. Work on your manuscript!
12.Do you have a list of Do's and Don'ts for your clients that will enable our members decide if they want to contact you?
Do not submit unedited work. Edit your work, in the least do three sweeps.
Always lend a pair of eyes. It saves us time. It saves you money.
Have a good history with a literary organization or group (online forums help a lot). Believe me, it tells on your adeptness.
Respect the art and write for the beauty of it. Not just to increase your money earning power. Money is secondary and only tails good artwork. It also makes it easier for us to represent your work.