Book: On Black Sisters' Street
Author: Chika Unigwe
Publisher: Vintage
Year of Publication: 2010
Source: Amazon


In this era of human trafficking and modern day slavery, particularly sex trafficking; On Black Sisters' Street (OBSS) is a book close to my heart. It is a surprise that it has taken me this long to get round to reading it. OBSS depicts the journey of four women: Sisi, Ama, Efe and Joyce in a sex trafficking ring headed by Sengor Dele. Their different routes lead to Dele who sends them to his favourite madam in Belgium to commence work. These are young women with great strength and big dreams – who are desperate enough or in desperate enough circumstances to want their dreams to come true. With the exception of Joyce who is oblivious to what is in store for her, the other women in fact choose this route which they hope would be paved with gold enroute to a future of riches and luxuries to shoo all their wants away. Sudanese Joyce appears to have no choice and her story is the saddest of them all – She experiences two traumatic incidents – both incidents which happen within minutes change the course of her life. Her fate is sealed when she meets spineless Polycarp who gets her into Senghor Dele's sex trafficking ring. Polycarp auctioned her life away to Dele by paying him to get her a 'job' as a nanny looking after White people's children. So imagine Joyce's shock when she gets to Belgium and 'nanny's uniform' does not exactly match the job description she has in her head.
Sisi is the glue at the centre that holds all plot strands together. Her spirit pervades OBSS from beginning to end – Hers is a spirit of unfulfilled dreams. It exposes a world of sexual depravity, sickening violence, the desperation of poverty and disillusionment. We are introduced to the life and spirit of Sisi and the book ends with her spirit floating away. The stories of the other women are just as haunting. Every character is fully developed. Each of the young women is a person with a story to tell with themes from child abuse and incest, to gang rape and the brutality of war. The story is told in third person narrative. This evidently helps to ensure that each character is heard clearly.
There is so much to say about this book and so much to recommend it. International Sex trafficking is a topical issue that arouses mixed reactions depending on which side people choose to be on. The central question remains: Are these young women victims of sex slavery or victims of their own choices? Unigwe shows that it is not an easy question to answer though it would appear from the stories of Sisi, Ama and Efe – that they may be victims of their own choices. OBSS is based on real research carried out by Unigwe. Unigwe's social commentary on the inner workings of societies that allow exploitative international sex trafficking rings to flourish is quite illuminating, also. The reader is exposed to the desperation of crippling poverty and lack of career opportunites in Nigeria for University graduates like Sisi and single parents like Efe. Corruption of the police and a lack of priority regarding international sex trafficking in Europe are seen as issues that help these criminal gangs to flourish. Unigwe also draws on the issue of societal values and the high premium placed on financial wealth and commercial success in Nigeria. Eyebrows are raised when Sisi's parents would not go to the airport to see off their daughter because they apparently suspect she has been less than honest about her intentions in Europe. But they are happy to spend the money she sends, with her dad even thinking of requesting a big car from his daughter.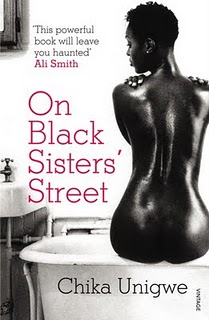 There are some unanswered questions, weaknesses in the plot that detract from an otherwise brilliant story. Who informed Sisi's parents about her death? The other girls did not know her family. Surely it could not be Dele as he would be implicated in it? Was Polycarp aware of Dele's trade – (Was he that desperate to be rid of Joyce to placate his mother) or was he really that naive?
Two of the four women – Ama and Joyce serve their time in the sex trafficking ring and are rewarded with new beginnings. Though I suspect that this may not be the case for many of the young women in sex trafficking rings. Sisi finds that life as a sex worker is more tasking than she could have imagined. She scrambles for freedom but pays with her life. It is indeed a hard knock life and a hard knock death. Unigwe is so skilful in the tale of Sisi's murder that all it takes is one sentence. Very impressive. She does this a lot throughout the book: using single words and short phrases for effect. Efe's transformation is one that I find harder to stomach. It is the cold water of realism splashed on one's face. It is true of course that some sex workers do become madams themselves and this is the bitter taste that remains in the mouth – the normality of that world to the sex worker who becomes a madam only to put others like herself through a similar traumatic experience.
Whatever side one is on – seeing this women as victims of deprivation and exploitation or victims of their own making – one thing remains clear – it is essential that we see them as human. Unigwe has not disappointed in this. We feel the pain and joy of each character. She invites us to walk in their shoes rather than judge them. She challenges us to see sex trafficking for what it is – An indictment of society as well as a consequence of poor choices. I look forward to Chika Unigwe's next offering.
©Adura Ojo – May 2011