I had no idea of what to expect from Chimamanda Adichie's
Purple Hibiscus
. However, there was one thing I was clear about after reading her two later works:
Half of a Yellow Sun
and
The Thing Around Your Neck
–  I was in for an experience of storytelling heaven. The first thing that one notices about Adichie is her style, her language. It is like she is talking to me. It is accessible, lyrical and sophisticated. It is sophisticated because it is what it says on the surface, yet it runs deep. A simple phrase gets one thinking:
"I wondered when Papa would draw a schedule for the baby…Papa liked order" (P.23)
The structure is well executed. We start from the point of rebellion and then work our way backwards and forward again. This works because Adichie wastes no time in quickly confronting us with the issues albeit in that understated style of hers. She tells us enough to keep us in the flow while dropping little bombs along the way. The point of view is appropriate in style and tone. The story is told in the fifteen year old voice of Kambili. Readers are introduced to her brother Jaja, 'Mama' and 'Papa'. It is clear from the outset that all is not well in the Achike household. Kambili tells us in the first few opening lines:
"Things started to fall apart at home when my brother, Jaja, did not go to communion and Papa flung his heavy missal across the room and broke the figurines on the étagère. We had just returned from church". (P.3)
Kambili continues later in matter of fact fashion to let us know that the heavy missal was meant for Jaja but it missed him completely. The reader is immediately invited into a world – Kambili's world and that of her family – where violence and religious fervour collide and make good bedfellows. The love affair between these two subjects is made the more potent because 'Papa' is a big man. He is a factory owner and newspaper publisher who bank rolls the local church with generous donations and is always the first to receive communion along with his family. Papa's ritual of a 'love sip' where he invites both Kambili and Jaja to sip boiling hot tea is unsettling because it is a taste of things to come. Like Kambili said: "I knew that when the tea burned my tongue, it burned Papa's love into me" (p.8). Then there is the jaw-dropping minute by minute control that Papa exerts over the Achike household 24/7. Adichie excels at easing out each of those bombs on us in a matter of fact way. Kambili casually mentions Papa's time allocation to the task of school uniform washing:
"We always soaked tiny sections of fabric in the foamy water first to check if the colours would run, although we knew they would not. We wanted to spend every minute of the half hour Papa allocated to uniform washing" (P.19)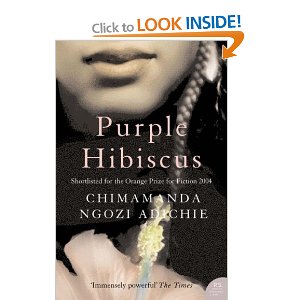 The 'matter of fact' normality of domestic violence in the Achike household and the fear this breeds as well as the physical and psychological impact of such violence is what is undeniably unnerving about this book. The fear is evident in their minds, their thoughts, the things that are not said but felt – The fear that makes Kambili and Jaja develop a secret language where they talk with their eyes. And when Mama is pregnant (we're told she's had miscarriages before), Jaja says to Kambili: "We will take care of the baby; we will protect him" (P.23).
But they could not, of course. Kambili describes 'swift, heavy thuds on her parents' hand-carved bedroom door'. She tries hard to 'imagine that the door had become stuck and Papa was trying to open it' and then she counts because 'counting made it not seem that long, that bad'. This is after Papa finishes his special prayer for 'people who tried to thwart God's will' – because Mama was feeling sick earlier on and did not think she could follow her husband and children to visit Father Benedict. The result of Papa's prayer is heavy thuds behind closed doors followed by a trickle of blood, with Mama slung over Papa's shoulder like a jute sack of rice. This is juxtaposed with the idea of domestic violence usually hidden from view. Kambili and Jaja are witnesses after the event.  Such is the nature of domestic violence and it is no accident that Adichie tells the story in a way that is unnervingly realistic. Domestic violence often happens behind closed doors with the effects later seen.
Papa (Brother Eugene Achike) is a man with two faces: One as a loving family man and public benefactor; the other as a terrifying, violent and fanatically religious monster who runs his household with the baton of fear and force. He is so repulsive a character that we desperately want to see him get his just desserts after the horrifying unspeakable hot water incident and later when Kambili ends up in hospital. Mama (Sister Beatrice Achike) initially seems to us a timid character but we soon find that still waters run deep. We have no idea until it hits us. But then someone else has to pay a hefty price so that they can all move on with the promise of breaking free from the past.
The heaviness of violence and religious dogma in the Achike household is balanced with love from the extended family – The love and care of Papa's sister, aunty Ifeoma. Aunty Ifeoma becomes synonymous with the freedom and vibrancy of her purple hibiscus as she along with her children show Kambili and Jaja a different way to live. Father Amadi , a young priest and family friend is a fine specimen of psychologically healthy manhood when he takes an interest in Kambili and helps her break free from the warped admiration she has of her father. He is a mirror that shows up all that 'Papa' should be but is not.
The role of women in Igbo society and the patriarchal dominance of men is one that is evident. At least in this particular household, a woman is seen as subservient. Such suppression is portrayed as dangerous as there are limits to human endurance.
Press freedom – the lack of it – is explored as well as the political landscape of a military Nigeria. Brother Eugene's only redeeming quality is that he 'cares' about the common man and the freedoms of civil society. And this is the irony – a man who cares so much about God and public freedoms but gags his household with fear and violence, and rejects his 'heathen' father. Adichie's Purple Hibiscus is storytelling gold.
© Adura Ojo, April 2011