If you want to make a new post, which could be a story, a poem, an article or a musing, do the following:
1. Click on the 'Dashboard' item in the grey menu bar, then click on 'New Post' (see picture below):
*
*
This will take you to the 'New Post' page.
*
*
*
2. In the 'New Post' page, ensure that you read the instructions in red (labelled in picture 1 below) and make sure that your story conforms to the site guidelines.
*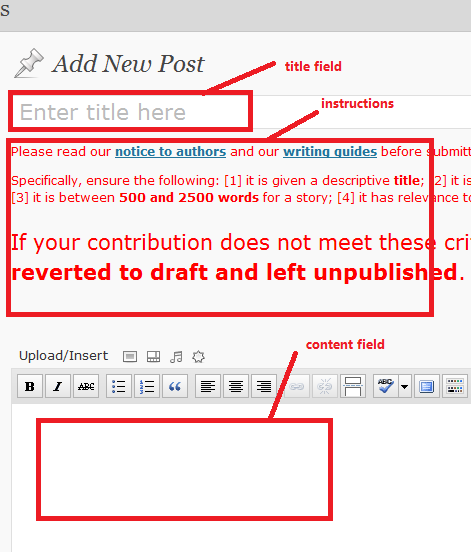 Picture 1
*
*
3. Enter a title in the title field, and enter your story, poem, musing, etc. in the content field below it. (these are both labelled in the picture above)
*
*
4. Select a category for your post (see item labelled 1 in picture 2 below); do not select 'Uncategorized'. You may tag the story with descriptive tags to help people find it (see item labelled 2).
*
Picture 2
*
*
5. After categorising and tagging your story, you may click 'Save Draft' if you don't think your story is quite ready for publishing, and you want to return to it (see item labelled 3 in picture 2 above). However, if you are satisfied with your work, then click 'Submit for Review' (see item labelled 4), and your story will be submitted to a queue to be published by an editor.