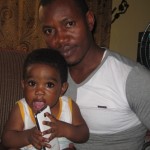 @myself
active 3 months ago
Hello House, Season's greetings.I just submitted the first three chapters of my Middle-grade book to a select agent for evaluation and possible representation. Now I need all your prayers and supports, as I await their (favorable) response. Be blessed, all of you.
View
Emeka and Leekwid are now friends 5 years, 1 month ago

An otherwise nice story that is bogged with such a mountain of errors. It is evident you didn't bothered checking for mistakes before rushing to publish.

@folakemiemem-akpan please send me your email so I can forward a copy for your kind appraisal. Thank you and best wishes from me.

@olajumoke. Thank you so very much. I am indeed proud to belong to the Naijastories family.

@levuz, thanks and best wishes from me on the anticipated publication of your book. We are all in these together, joined by creativity and propelled by the power of the written words.

@innoalifa, pardon my not responding earlier to your request to send you a copy of the book, A Miracle for Daddy for your review. Blame it on a tight official schedule. But please check your inbox, as I am sending […]

Sounds like stanzas from a love song. You left the reader wanting to learn more about your characters without been ever giving that chance; the narration started and ended suddenly somewhere in the middle of […]

Amara Ugo and Leekwid are now friends 6 years ago

@Amara Ugo. Thank you for reading. I appreciate. Please note it was just a random musing…some actual dream I had.

@innoalifa. Thanks a zillion. I say, you have a poetic way of saying things

"Sebi I tell you say this job go change our lives forever?" Virus said and let out a nefarious cackle as he paused from taking a huge bite at what remained of the roasted chicken thigh in his rake-like grip.

I […]

@innoalifa. The poet has spoken again. Thanks for dropping by.

@innoalifa. Much respect. Thanks a bucketful for the encouraging words; they fuel my zeal as I strive to deal with this task on my hands.

@six. Thank you for the like. I appreciate. And please, don't hesitate to point to me weak areas that needed to be tightened. Cheers

Toab Wrights and Leekwid are now friends 6 years ago

Bigdee and Leekwid are now friends 6 years ago

The house was big, just like in a dream; so ostentatious I almost didn't believed. I looked around and was really impressed by everything I saw. Some people sha were indeed born with silver spoons, I thought to […]

@innoalifa. Now I'm reeling with gratitude for this encouraging words. You may not understand what it has done to me. Thanks

@innoalifa. I am honestly humbled by your comment. Thank you for taking your time to read.