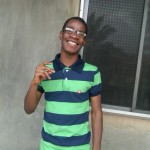 @kodeya
active 2 days, 16 hours ago
54218pts
Rank - Head Wordsmith
Chinua Achebe said: Until lions have their historians, the tale of the hunt will always glorify the hunter.
View
Kay Greins and schatzilein are now friends 6 days, 19 hours ago

Kay Greins and Ufuoma Otebele are now friends 1 week ago

Kay Greins and Amina Idris are now friends 1 week ago

Okay, I didn't go to a boarding school, so the concept of Emeka!!! ing wasn't known to me until now.

Great read.
And quite hilarious too.

*KG*

@levus

Technology has indeed gone far.

Thanks for dropping by.

Wow. Thanks for the comment.

Yep. Technology wins. Thanks for the kind comment

I'm like 'wow'. Thank so much for the insightful comment.

Plus, i've just sent it to your gmail account.

When I read the first sentence of your comment, my heart lurched. It only return to normal when I read the adjoining sentence. Thanks for the kind comment.

@Shovey, thanks for observing that.

Thanks for reading. Please can you point out some of the editing errors?

PS : did you receive the two novellas I sent to your mail?

7am, pedestrian bridge,
Ikeja.

The dark grey clouds of the dawn is slowly disappearing, giving way to the white morning clouds that will pave way for the sun very soon. I climb the stairs of the pedestrian […]

You and 2nd POV. This was well written and I enjoyed it very much.

*KG*

This is beautiful. I enjoyed reading it.

PS : I just stole your quote on hope.

*KG*

Thanks for reading. I don't intend to continue it like I said earlier. Thanks once more for your advice.