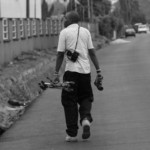 Felt it was a dream all along. I don't feel a snake would have felt like oga's hands though (unless it was a dream).

Nice one.

You know this like you had done the research quite well. Nicely written.

Have a female friend you talk to. That's way more therapeutic. But I understand this though. Nice one.

I love it when love is professed with such artistry. Nice one man. You just got yourself a perfect muse. Let the inspiration flow.

Sci-fi… What if Papa Ajasco was superman?????

Nice concept. Let the contest begin.

I love what you tried to do with the story. Brilliant idea. We all know all the stories but never quite thought what must have gone on behind what we had always known.

I know the characterisation could have […]

@elovepoetry Make out time for such events oh. Helps free the spirit of the artist.

Don't get me wrong oh. You could plan road trips… or outside state trips… Or even make elaborate plans to visit Paris or Venice or Notting Hill.

But there's no way I would understand […]

A very fine poem.

Think Seun is right though. Didn't for once feel like you were talking about mangoes shah. I think @chemookpi needs to come decipher this one as well.

Mangoes could have easily been "man […]

I didn't feel the sci-fi vibes oh but this was very nice. I loved the message and its honesty. Had this nostalgic feel too.

Virginity is something you can never get back. Enestera has shagged and should learn […]

Never let your muse go man. I really loved the way you analysed the poem. Very nice work.

Noticed a mix up between (it's) and (its). Nice poem. Some lines could have been better.

How does it feel? Overrated.

Simple stuff like going to the cinema to see an independent film or lying on a mat in your compound counting stars will be way more romantic for me… or some good old country karaoke. I am a bug fan of […]

Ditto @nicolebassey's thoughts.

It could have been much better if it wasn't this long.

Still nice though.

Reminds me of Johnny Cash's I Walk The Line.

Nice effort but could have been better. Keep writing.

Nice one. A strong message that should bring change.

At line three, I nearly interpreted it differently.

Nice poem.

I think this was nice. And I believe in (human) muses so it actually makes a lot more sense, loooooool.

Nice use of words. The words seemed 'chaotic' in a very lovely way.

Nice poem.

I loved the beginning a lot. Then the ending as well. In between was good too but a little 'long'.

Someone's mentioned the errors already.

And yea, you are one of my fave writers too. Keep writing.