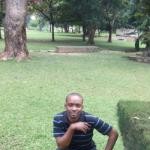 active 2 months, 3 weeks ago
9497pts
Rank - Writer
Please email us. Saturdays are for the meetings, everyday, there's something to do

@kodeya na true o, choi, but that one no come my mind. As na gidigba interview, I s'pose look fine na, and how I wan take know say water go pick race? Wetin man pikin wan do now? Na to sing 'gobe' dey wait make […]

Hahahahahahahahahahaha
I will die today!
Well, thank you.
Compliments.

Now am laughing.
A publisher/ agent/ prospective editor usually just reads first few sentences and decides if a work is good or not.I didn't have to read past your first paragraph.
Your story is Nollywood. Where […]

Plenty editing will need to be done on this one. Many unecessary detail will have to be caught. All the details of what woke her and sat up and yawned and how she put on a slipper and yawned many times, and […]

I think the technology has improved our means of making and keeping more friends

Your story was clustered and needs major editing but still…. Lol… You're one unlucky niggur. All my bad luck with adem Caros don't compare to this. See as babe take end man pikin career, take hanky abeg…

Musa is a fool sha, Vanessa wicked, Frank, I dunno, but why did Diana Twitter? She could have just facebooked.

You did well with this one. Your POV + the short sentences made it mind-blowing. You pulled this off well.

Make sense much. I'm with Kaycee on this one.

I like your stories sha, they read smoothly.

And the moral of the story is don't ping while tweeting, well put ma'am.

⭐⭐⭐⭐⭐
I remain on my bed and roll from side to side, close my eyes, and shake my head left to right in a bid to fall asleep again and finish it off. For where? Sleep doesn't show up. I give up and reach for my […]

@Emmanuelpro thanks man. I appreciate your stopping by. Watch out for the next part.