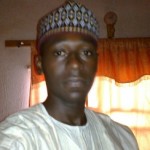 @danjuma
active 3 days ago
8624pts
Rank - Writer
I've finally agreed not to be me but I've also decided not to be somebody I'm not.
View
Erikposi Benjamin Chigozie and Mamman Saba Mustapha are now friends 1 week, 4 days ago

Korayday and Mamman Saba Mustapha are now friends 2 weeks, 3 days ago

@anakadrian you are right introspection can be deadly if not used wisely. Thanks for liking the poem.

@BRYTANDRE. I must confess I agree with your words this God/Satan business is just something else. I hope we find the answers before the end.
@Innoalifa is right though maybe you should have written the poem in […]

Mamman Saba Mustapha and Uyiosa are now friends 3 weeks, 6 days ago

@LEVUZ. Lol……don't despair I'm sure NS will find a way to feed you with internet advert been the new thing I'm sure those NS ogas at the top are making some money that they can share with us (their boys). […]

@HULLERJ. Yes oo tell them that we have come of age and will not fall for their lies and deceptions.

@SUNNYDEMAJESTY. Nice one, although I'm not really religious let me still say amen to your prayers.

@OMONIYI-ADESHOLA. I like the message in the poem. No piece of work is 100 percent perfect but I don't share all the criticism above. Just learn from constructive criticism but don't take it all to your heart, […]

Mamman Saba Mustapha and sultan are now friends 1 month, 1 week ago

@OLAMIOTAN. This poem speaks straight to my heart. I've found myself in the same situation so many times. Nice one, welldone.

@KAYMILLION. Excellent piece. I hope our choices bring peace.

@TOPAZO. Good one well written but all the doomsday prophesy is really scary.

@CAINE@YUSUF. Aww…nice one love the way it started happily but ended on an unhappy note. Good one.

@Folakemi. Lovely story, so romantic. Nice one.

@OKEMEJAMES. You've said it all using the beauty of poetry. Excellent piece. Every time my mind dwells on what 14 Feb 2015 will give us I get scared and sad. I just wish cupid will use his arrow to help us, lets […]

@TOPAZO. Deep, very deep. I think the skies weep blood and the tears also clouds our eyes at the same time.

@HIMALONE. Thank you, yes our dreams are worth holding on to no matter what happens.