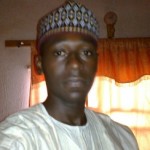 @danjuma
active 2 years, 1 month ago
I've finally agreed not to be me but I've also decided not to be somebody I'm not.
View
screamingviola and Mamman Saba Mustapha are now friends 4 years, 10 months ago

@anakadrian. Really funny I can't stop laughing, nice one.

@ojestar. Thanks, yeah they must really be afraid of letting Nigerians know the skeletons hidden in their closets.

@teesaint. This is lovely , I love the way it started and ended as a dream. For a first poem this is a job well done.

@graceokogwu. This is so beautifully written especially considering the fact that it is a poem. I was picturing all the scenarios as I read. Well done.

@christitus. With all the cries of war around us whether legitimate or not, it's good to remind ourselves of the true reality of war, how the masters use the masses for their own selfish reasons. Nice piece.

@omenga. Lovely piece, A region that provides 70 percent of a countries wealth should have more to say on how the country is governed. I've always been in support of biafra but only if it will truly benefit the […]

@chijy. Really sad and emotional bought tears to my eyes, reminds of loved ones I've lost along the way.

@katiee. Nice piece, sad and depressing but nicely written.

@edydeyemi. Lovely piece. As a lawyer I've seen your mistress in my dreams and imaginations I don't think she exists in real life.

@penprince. Nice piece, they say it's good to be good and I agree my only problem is that most people who do good do it because they want to be seen to be doing good or because they want to please God and get […]

@anakadrian. Very funny but true. But hey what's wrong with a man smiling freely at another man ( I'm actually smiling right now and it's all for you). Nice one love it ( and I'm still smiling by the way ).

@praize. Thanks, the disclaimer was meant to add humor and make the piece clearer. Your point on the typo is well noted will try to do better next time.

@namdi. I still tremble with fear whenever I think about that period (1967 -1970) although I was not born then I have read a lot of literature on that period to know that we should never allow something similar to […]

@aplusn. Thanks, glad you enjoyed it, I just thought the disclaimer will make the piece clearer especially for those who do not really know the history of Nigeria, your point is well noted.

@folakemi. I agree with you marriage is beautiful when it's with the right person ( I'm still searching for the right one) . I'm glad you could relate with the first paragraph but you've also put more fear in me, […]

@kyceeq. Lol, I was beginning to view your comment as some sort of rejoinder, but you are right marriage is not something that can ever truly be understood, sometimes I think it's unnecessary other times I know […]

@ojestar. Thanks, I pray that Nigeria works and I pray for peace everywhere too. I just thought the disclaimer will make readers understand the piece better.

@ivybrown. Thanks, yeah sometimes its better to allow children choose their own career.