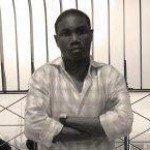 @aryor
active 7 years, 5 months ago
Man, This last week was the craziest…..After spring break, everything gets crazy…Been mad busy! But thank God anyways!
View
Perfecta Bassey and Ayokunle Falomo are now friends 7 years, 5 months ago

At Death


At death
my coat of skin
melts into streams that flow
and show on faces of the folks
who mourn


but

Do not

mourn for me for I cannot swim

or else I'll sink and drown

in the […]

Thanks for the gift! It's a lovely reminder to enjoy life – to relish the memories of yesterdays/years, be grateful for today, and to look forward to even brighter tomorrow. The form you chose to use helps somehow […]

Imagery is amazing! That sure is one of the things that would make me come back to the poem a few times more. Quite a different approach to dealing with the topic of the prodigal.

@Sueddie Ha, no be so oh oga. There's really no story behind it, was just trying to experiment with the form :)

You will pardon me for responding to this almost 2 years later @Sueddie. Thanks a lot! Your suggestion is right on point!

Mr Lawal, @easylife2, this is coming really really late…but THANKS!

Thank you @Mimiadebayo, I haven't been on here in a long time. Thanks for bringing me out!

Sunshine and Ayokunle Falomo are now friends 7 years, 11 months ago

Quite funny reading the comments on this again. I wonder why I was so pissed/defensive lol

Arggh! Man, you're good! The structure of the poem mimics your and the girl's relationship! It feels like a dance…with all the taunting involved and such…

Memoria

Write a poem in memory of the dead, For me
It's all to easy, To Watch
My pen bleed on the page, Just as
It was all too easy, To watch
You bleed, as millions get to read
The horrors on the page. […]

We all need events to reveal who does love or not. Be careful of the tenses; simple things like such make the poem make sense for one, or flow even well. I also think silent should be silence, and there are some […]

Definitely! As it should be anyways…

Nothing beats talking to oneself from a second person perspective!!!

Hmm, wow! This is heartfelt, honestly! Awesome imagery as well. You really do know how to use it very well to invoke that gripping sensation the reader (me) should feel. Minor – second line: If only I had "knew"?

Nice. I noticed some good play on words in there. Some of the wordings are unnecessarily difficult though. Simple is good…sometimes.

@sibbylwhyte Definitely true! I really appreciate your comments. Being honest about how I feel is the least I could do at least at an attempt for a real memorial devoid of pretension.