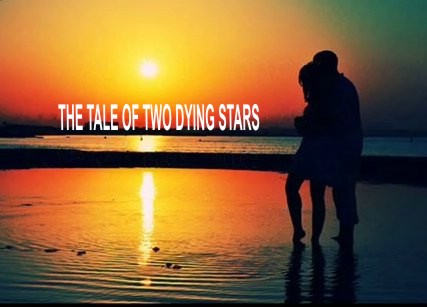 Janet stands still, like a stone figure; her face is terribly blank, eyes wide.
Right here, my spines wobble within me, from a cold shiver. A two-month Pregnancy? The question probes my mind.
Silence has crash-landed upon the room; like the one at the funeral of a young deceased. I can't deny the fact that we had lot of raw affairs. But she would wash them with pills. I can't remember vividly the last…. No. I think I can remember. Yes. Before she left, it was over two months when she started requesting me to always protect my sword before any battle.
I shake my head. Then frame my jaw with my hand, smile, turning at the wall.
In a matter of seconds, I turn back, sigh and face Adeola whose head has been dropped back.
With a cool apologetic tone, I begin, "Baby, you should have told me this when Baba was here….I don't know you're carrying my baby. I'm so sorry. Two months, you call it?"
She lifts her head. Her cloudy face is starting to brighten up.
"Yes, two months," She mutters, nodding.
Then I bend over her, supporting my hand on the wall, "And you have confirmed from a doctor. He assured you that it's only two months…."
"Yes, I did," she nods, innocently, again.
I stand upright, turning back to look at Janet who seems completely lost; dummy-faced.
I return my gaze on Adeola.
"Get up from that place," I say in a low, controlled voice.
Looking at my face, her eyes glint with confusion.
"I said get UP, now!" I boom as loud as a gunshot in the midnight, so that even Janet is rocked back on her feet.
Adeola is standing slowly, trembling, "But, but, y…you…."
"But what?" I bark, "But what? You think I'm stupid? You think I'm stupid like you?"
Then I drop my voice to nearly a whisper, my breaths racing, I snarl, "for good three months in this room, Deola. For good three months, tell me. Did we have any raw affair? You must be sick in the head!" I point straight to the door. Janet is now standing aside, right behind me, "Now, use the door!"
"But I didn't meet any other man since I left!" She snaps, as if afraid I would beat the statement back to her mouth.
"If I hear any word from you again, I swear, you will…"
"Mathew, please take it easy," Janet says from behind me.
I turn to Janet, still pointing at the door. "Thank you….but please, ask her to leave gently," I say in a calm voice.
She rather wears a faint smile, as if to say she's never in the best position to do that. Turning back at Adeola I discover she's been shooting a fiery look at Janet. Certainly, she believes Janet is my current woman. Idiot!
"For the last time…"
But before I could finish my statement she has bent to carry her bag, proceeding to the doorway. Before opening the door she glares at Janet, then back to me.
I hear Janet sigh heavily when she has left. I tilt my head, pocketing my hands.
"So, can we get going?" she says after an awkward moment of silence.
"Yeah," I exhale.
***
It has been an hour and 51 minutes' drive from Lagos. Her new driver, a middle-aged man, also an Igbo, seems to have travelled far and wide. When I mentioned Oke-Are, Ibadan, he didn't crumple his brows, going as far as listing all the villages and towns around it.
The range rover jeep is presently climbing a mountain of red-dusted road leading to Oke-Are. The road is tarred, but awash by heaps and heaps of dust. Only occasionally do we come across the brownish blackness of tars, usually with bumps and pot holes.
Beside me, Janet has been busy with her phone and whenever she raised her head she would call my attention to any interesting landscape. Like what she is doing now.
"See, Mathew, that building, how classically beautiful…."she's pointing at one castle-like building with rusted and ragged zinc; although unpainted, but looking as if smeared with dirty creamy paint.
"Yeah, I wonder what age it is. Perhaps it was erected in the 30's." I remark, smiling. She is watching through her side window.
She especially admires the architecture. She has expressed how unique they are, unlike her own town where the entire archaic buildings are bungalows.
In a few minutes the vehicle is on Opo Street, pulling along a broad untarred road. The street is lined with mostly out-dated and semi-collapsed houses. I soon ask the driver to stop in front of a bungalow with faded orange paint. To the left is a shop packed with soft drink, a colossal pear tree in the middle. From here, forty feet or more, I can see Mama's sister handling her customer a bottle of mountain-dew. That shop is a supplement for her salary in education. Her children would manage the place on week days.
This time, I'm the first to get down, pocketing my hands as I look ahead. Janet is passing through the other way. Gracefully she walks beside me after crossing the plank of a shallow gutter. The air is so thick with the smell of dust and burnt hairs of bush meat; a cloud of bluish smoke crawling into the sky from the next house, demarcated with a dwarf concrete fence.
"Eh, Mummy, Mummy, brother Yinka is here!" Lara, the last daughter of Mama' sister, sweeps into my open hands, drunk with excitement; she is dressed in a blue skirt and sleeveless pink blouse, chocolate-skinned, a teenager.
"Ha! Yinka, Oko mi, eh, how was your trip!" says the mother, almost at the top of her voice, extending hands at Janet, who to my surprise, has fallen on her right knee beside my prostrating figure.
"Abi she is…." Mummy says and cuts, as if awaiting me to fill the gap. Meanwhile, she has sent her daughter to inform Mama.
"Yes, ma," I nod and smile.
"Oh, you are welcome…."
After the pleasantries, we head towards the front door; Mummy leads the way, followed by Janet and me. It's a face-me-I-face-you—ten rooms, half for the family, half leased.
As we enter the sitting room, Mama is about to get up from the floral red sofa, probably to come outside.
"Ha, ha, ha, you are welcome, my lovely daughter," Mama is bubbling with euphoria as Janet drops on her two knees, just beside her. Oh, Nollywood is missing a great actress. My fiancée, indeed. Seldom can one find an Igbo lady, a high standard at that, saluting on her two knees, like a typical Yoruba breed. Of course, the respectful Igbo girls are popular with curtsy.
I prostrate before Mama after Janet. Getting up, I sit beside Mama on the three-sitter; Janet is seated at the opposite one-sitter, a ragged one. But she seems comfortable on it nevertheless. In the middle of the sitting room is a formicated wooden table piled with textbooks and notebooks; the whole interior is coated in blue, a mahogany shelf with old TV and stereo radio standing at the far wall, just by the bedroom entrance. The bare floor and dirty white ceiling, on their own, are signboards of poverty.
Janet is smiling, head tilted. Mama pats my back as if to say," Well done, my son."
Boundless as ocean is my joy at her temporary restored health, as it were. It's evident on her gleaming face and skin, like the ripest mango in the raining season, although with tiny creases. Her body has returned to that normal plumpness and her petite figure is elegant on her blue ankara blouse, wrapper and white scarf.
Lara is standing before Janet, requesting her preference between amala and pounded yam and the soup she would like with each. She shakes her head in protest, claiming she is okay.
"My daughter, they don't reject food in our house O," Mama says, half joking, half serious "You have to take something. My son must have told you that."
With that, her face seems to flush red. She resorts to pounded yam and egusi soup. I smirk at the deceptive scenario, wondering with bitterness how Mama would feel if I later present another lady.
At last Mama asks her name, followed by tribe, state of origin, and residence in Lagos. Telling her English name, she answers each question between warm smiles. Having realized she is an Igbo with Yoruba manner, Mama nods severally, glancing at me as if to say: "She will be a good girl."
"I hope you will be a good wife in our household," Mama says with a jovial smile, "But, I'm afraid. I hope we are not going to sell all our properties before paying the bride price? I know that Igbo people can demand gold and diamond when it comes to dowry…. "
I watch the way Mama picks her Yoruba-coloured English one after the other. According to her, she was a graduate in marketing from OAU before meeting Dad who, after losing his railway job, had resorted to driving a Taxicab. Mama later opened a bookshop; on one fateful day, she had lost her goods to a fire outbreak which occurred in the adjoining building.
Janet is smiling at each word from Mama. She must have noticed her sense of humour. But then, Mama is right. The Igbo's outrageous price is a monster that scares men of other tribes, especially the humble ones. Like me.
When the meal has been served by Lara Mama disappears into the bedroom. I draw the table close to the three-sitter, expecting Janet to come over. She lowers her head, right elbow on the sofa arm, fiddling with her sparkling blue bracelet, as if absent minded.
To call her attention, I tap gently on the table. She reveals her face, and with six paces she crosses to my side, sitting closely beside me. I ask her to rinse her hand first, in the stainless bowl.
For the first time, we are eating together in a single plate, a local food at that, served in two white plates, four chunks of bush meat. I have thought she would just nibble at it, the way any classy girl would have, but seeing her take each handful with gusto, I know right inside me that she's a treasure of a lady; at the same time, a high class pretender.
***
As we set out for Lagos by 11:35am, Mama and her sister are following beside us, seeing us off. Earlier on, after the meal, Mama sought my attention to the bedroom, for a private chat. She said I was lucky to get a lady with such degree of beauty, while expressing a concern that she must be from a rich background, for her expensive jewelry and dazzling appearance. Just then, I lied to Mama that I have come with our company official car, for a project here in Ibadan. So, I just seized the opportunity to bring my fiancée. It's a surprise visit. I never told Mama I was coming today. All these lies were Janet's idea. While approaching the street, she has told the driver to await us at the junction, so she would call him to take over the wheel. She wanted me to appear with air of honour, according to her; otherwise she might have parked a bit far away. She wouldn't like my parent to hold the impression that she's financially superior to me. So I told Mama that her parents are comfortable. Mama has fretted about the payment of her dowry from my meager salary. "Olorun ako wa mo'se," (May the Lord guide us) I have told her.
I'm now at the boot of the car, bringing out two bags of beverages, for Mama and her sister. I call Lara from afar, to pack them inside. Janet has shopped for them on our way coming. The contents are Milo, slice bread, peak milks, sardine, coffee, sugar, oatmeal, and others.
Mama and her sister begin to shower prayers on us, from Yoruba to English, from Bible verses, that we shall land safely, be blessed, that nothing would ever put us asunder. While I hesitate to say 'Amen', Janet is responding with a loud AMEN. I shake my head, wondering what extent she has gone to help my mother's health.
***
The car has long since crossed beyond Ibadan, sliding towards Lagos in quiet speed. Janet is two feet away from me. She's been browsing on her phone, as usual, and then she is reading something aloud. A status update from a friend, I guess. She nods slowly.
"What a touching story," She sighs, shaking her head.
"Mathew," She calls softly. Before I could answer 'Yes' she continues, "Do you also have a moment in your life you can never forget?"
"A moment?" I ask, chuckling, "there are several moments in my life I can never forget."
"If I may ask, which is the most painful or touching?" She positions herself towards me, with a questioning look.
I wonder if to tell her about my first girl on campus, who I caught in act with my friend at the back of lecture room….No. That's a cliché, a common scenario. SHE is certainly the most painful thing that ever happened to me. It will make no difference if I reveal that to her. How on earth could she know? Nothing is more impossible in the universe than it. Would I have recognized her if not for her names and the marks? Anyway, let me air my feelings.
"When I was 14 years of age," I begin slowly, staring nostalgically upwards, "I was on a bus with Mama…on my way to school, along Badagry. I came across this girl, about my age. She was comforted on her mother thighs; so was I. Her mother and Mama were into a hot argument before I set my eyes on her….I think that was my first experience of a deep affection, for a girl. I wished I could see her again. Little as I was, I tried my best to locate her school; by her school uniform….all was to no avail. I thought I was merely suffering from infatuation. My eyes stung with tears. I told my friends and they laughed at me. They said I was so stupid to think the girl would also like me. I tried to forget about her. I believed I was indeed stupid, foolish even! But she became my haunter in night sleep—for almost a year. After my encounter with many other pretty girls, her memory faded like a smoke…"
I pause and sigh, observing her countenance. She is looking moody, almost tearful, like someone watching a tragic movie. Then I continue, looking up, "But recently, I came across her, she never recognized me. But I did recognize her by the faint marks on her chin. She has grown into a more beautiful and caring lady… The peculiar thing is that, you share the same name. I remember back then, I hear her mother call her Adaeze…."
I decide to conceal the English name to avoid obtrusion.
So I'm expecting her to say: "Oh, sorry" "That is sad", or "That is powerful." But by the time I look at her, she is muted, frozen, blank-faced, eyes wide—distant and vacant. With what I'm seeing right now, I bet she will never stir even if I wave my hand across her face.