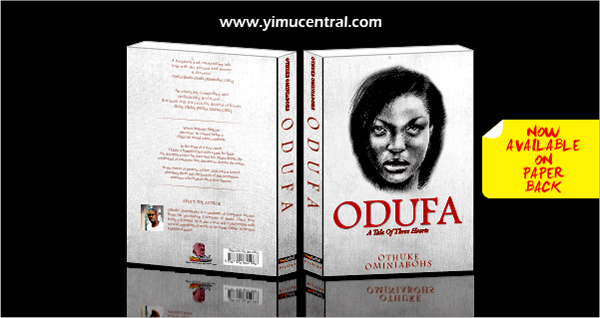 YimuCentral presents Odufa (the book), the most read story published on the YimuCentral blog with over 10,000 hits in a space of 2 months (Read the excerpt HERE). The book is written by Othuke Ominiabohs, a Nigerian writer whose works have appeared in numerous blogs, and magazines in Nigeria and abroad.
Odufa is the first novel being published by YimuCentral in line with its vision to educate, entertain and encourage African youths to explore their creative sides through reawakening the almost extinct reading culture among Africans. Who knows, your book might be next!
YimuCentral Online is a platform that encourages both old and young readers, with diverse opportunities in the offing such as online and traditional publishing offers for writers.
To stand a chance of having your story published into a book by YimuCentral, send your story to editor@yimucentral.com now!
Synopsis
ODUFA is a tale of love where the tragic hero, Anthony Mukoro, faced with the extinction of his lineage, plummets into a reckless, audacious journey to sire an heir. His love affair with Odufa, an alcoholic with a past, plunges them into the bowels of this serpentine romance which alters their lives forever.
A chronic disease and a rising wish fraught with hope . . . Three hearts, two tribes and one bond. Tradition looms, friendship is tried; love is tested. Will they triumph over the hanging shadows threatening to tear them apart?
NB: THERE ARE THREE FREE COPIES AVAILABLE TO ANY THREE NAIJASTORIES WRITERS RESIDENT IN LAGOS FOR A CHANCE TO REVIEW THE BOOK.