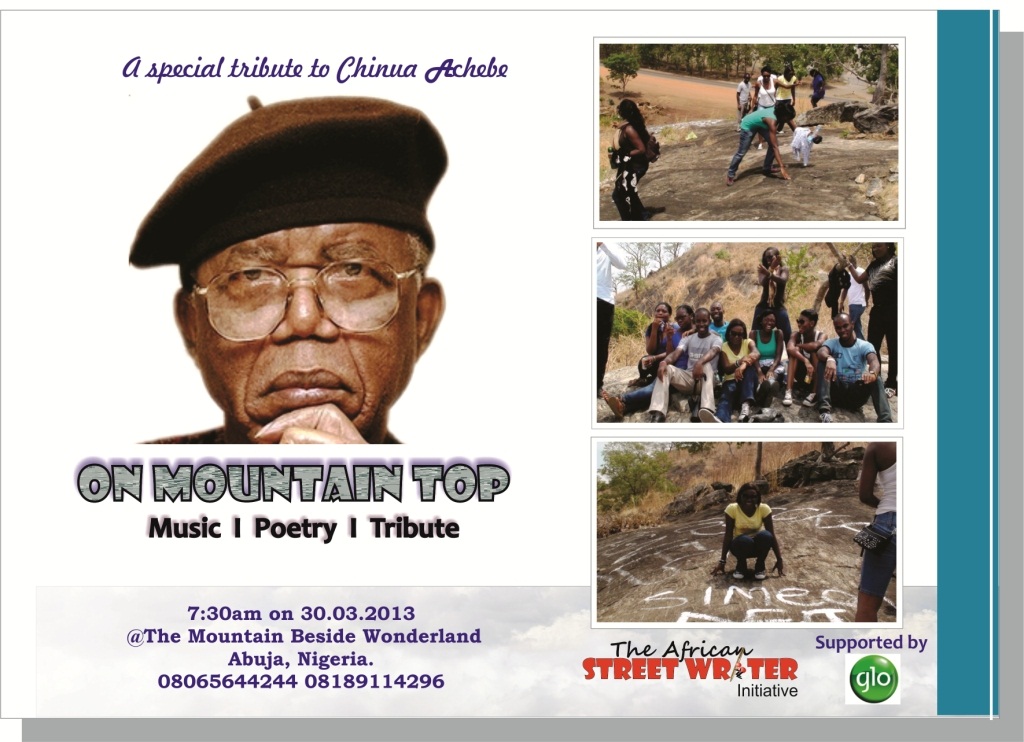 With the passing away of a great African literary Icon; Chinua Achebe, we can only console the old with our young and creative minds, for they have passed the baton to us.
Features of this event would include:
 Every participant being provided with a 'Glo' t-shirt and a face cap for the mountain hike
 At arrival, we will inscribe names on the mountain top such as Chinua Achebe, TASW, Globacom and those of participants
 The top of the mountain would avail us with a lovely view of The Federal capital.It would be a beautiful scenery and thus participants would get to take pictures and might even be oppurtune to see some beautiful wildlife (Monkeys etc).
 There would be a line-up of events which would include dancing and music performances, Poetry slam competition, spoken words competition, stand-up comedy by Abuja finest comedians, games, face painting and most importantly, a tribute to Chinua Achebe.
Professional pictures would be taken by Xquisite Foto Studio
"I don't want to write about climbing; I don't want talk about it; I don't want to photograph it; I don't want to think about it; all I want to do is do it." — Chuck Pratt.
"I think back to the old people I knew when I was growing up, and they always seemed larger than life" —Chinua Achebe.

For more information, You can visit www.theafricanstreetwriter.com, like our  Facebook page and follow us on Twitter @tasw01