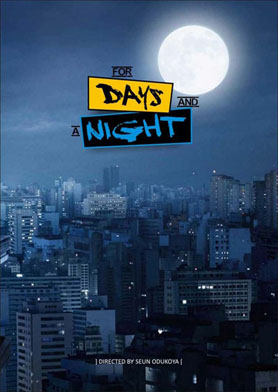 It's a romantic night.
You know; that kind of night. The kind of night described in a million-and-one Danielle Steel novels; a night on the streets of Paris…strolling along the banks of the river Seine. Or maybe in Florence on some cobblestone street, sipping Chianti wine, licking a gelato and listening to Bach.
But I've never been to any of those places. So you'll just have to make do with home.
Nigeria.
To be exact; February 16 2005. Sometime after ten at night.
Place? That would be UNAD – University of Ado-Ekiti, Ekiti State. Standing at the junction where the un-tarred road coming from the hostel met the main road that went past the campus gate and into Ado town.
It was one of those nights on which NEPA for once did not let you down. Soft music was playing from one of the hostel rooms…maybe something from Timi Dakolo or Darey or Banky W playing in the background.
A night with the right kind of weather – not too warm, not too cold.
Just right. The kind of night with or without a full moon – but with just enough stars that the weather was complimented, so that meant there was enough illumination to see what you needed to see.
Her eyes; for instance.
Duh. How could you not have expected that? What sort of 'romantic night'; from a guy's perspective…at least a straight one, is complete without a girl?
Anyways, there we were; her looking at me as though I was dumb Jack in Titanic and she was Kate posing nude on the couch; me trying not to look at her. It was the hardest thing I had ever had to do – up to that moment.
Crazy girl. A few moments before, she had been asking me if I thought it was possible to fall in love with someone within moments. 'Oversabi' that I was, I started giving her empirical reasons and evidence as to why it was impossible, unrealistic and stupid. She looked at me with those liquid brown eyes, shook her head and said nothing.
I wondered if I was trying to convince her or myself. 
+++++++++++++
For Days and A Night is a collection of short stories, a poem and some candid personal opinions from yours truly – basically my perspective on some general issues. It is my first published book.
Click to download 'For Days and A Night'.
Thank you very much!