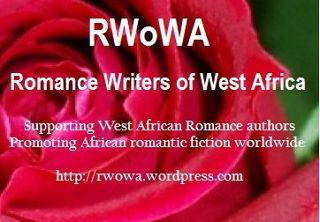 The Romance Writers of West Africa (RWoWA) is a support group for romance writers of West African origin and/or writers who write romantic fiction set in West Africa, and is dedicated to the growth of African romantic fiction worldwide. RWOWA Seeing that the Touch of Spice contest wanted Love Stories, we called on the members of RWoWA to join the judging panel to select a shortlist of the best stories from all the entries.
Founded originally with four members on June 17, 2011, RWoWa's major goal is the growth of romance fiction in West Africa. With the increasing demand for the African romance genre, RWoWA strives to support established and aspiring romance authors who emphasise African plot lines. All sub-categories in romance writing are covered: contemporary, historical, inspirational, paranormal and science fiction. RWoWa provides a platform where members, through networking, may polish and constructively critique works-in-progress, resulting in exceptional romance fiction for our reading audience, which is not only limited to West africa, but reaches out worldwide. If interested in joining the community, or have any queries, please email romancewritersofwestafrica@gmail.com
The two RWoWA members on the Naijastories and Worldreader Touch of Spice juding panel are as follows;
1. Kiru Taye
Kiru Taye is the award-winning author of His Treasure.
She writes historical, contemporary and paranormal romances. Her stories are sensual and steamy, her characters passionate and sassy and her settings atmospheric and exotic.
When she's not writing, she's reading, hanging out with family/friends or travelling. Born in Nigeria, she currently lives in the UK with husband and two children.
You reach her via her blog, Facebook, Twitter, Google+ or Pinterest
Follow her blog for latest news and giveaways: http://kirutayewrites.blogspot.com
Read book excerpts on her website: http://www.kirutaye.com
Kiru Taye's Books:
Historical Romance:
His Treasure (Men of Valor series, #1) published by Breathless Press out now
His Strength (Men of Valor series, #2) published by Breathless Press out now
His Princess (Men of Valor series, #3) published by Breathless Press out July 20, 2012
Contemporary Romance:
A Valentine Challenge (Challenge series, #1) out now
An Engagement Challenge (Challenge series, #2) out now
Paranormal Romance:
Unbound featured in (The Blood Bar Chronicles, Book 3 anthology) published by Breathless Press out November 2012
Visit Kiru Taye's page on Amazon, All Romance eBooks  and other online bookstores to purchase her available books.
2. Netty Ejike
Netty Ejike is a romance writer and an independent publisher based in Nigeria. Having read a lot of Harlequin, Mills & Boon and Silhouette romance novels since her early teens, she was moved to write her own story and form her own imprint called DeRafelo Romance. She has written four novels since 2010: OBSESSION, HIS SIN, STORMY AFFAIR, and AN IMPIOUS PROPOSAL, and is currently working on two more novels.
While Obsession, her first novel, is a story about a long-term friendship, His Sin delves into the core of sexual assault and its consequences, and Stormy Affair reflects on an affair that is indeed stormy between two passionate lovers, contrasting refreshingly with An Impious Proposal, with its Nigerian setting, characters and religious inclination.
The paperbacks are available at:
The Hub Media Store, Polo Park Mall, Enugu
The Hub Media Store, Palms Mall, Lekki, Lagos
Okoziko Worldwide Bookshop, Domestic Airport, Lagos
Kizito Bookshop, Area I Shopping complex, Abuja         
Joeson Bookshop, 6b Oguta Rd, Onitsha
Ebooks are available at:
https://www.smashwords.com/profile/view/Romantia
http://www.amazon.com/s/ref=nb_sb_noss?url=search-alias%3Dstripbooks&field-keywords=Netty+Ejike
https://www.allromanceebooks.com/product-obsession-786979-149.html
For more information on getting eBooks in Nigeria, please visit www.nettyejike.com
The selected NS editors on the judging panel are;
3. Su'eddie Vershima AGEMA 
Sueddie Agema lives in Abuja and Makurdi, Nigeria. He was exposed to Literature at an early age by a father who kept the tradition of the moonlight tales, complete with acting roles, local lore, and cultural songs. There was also a mother who bought the best of African literary titles, from Chinua Achebe to every famous writer of the Heinemann fame. Sueddie blogs at http://sueddie.wordpress.com.
4. Samuel Okopi
@Samuel_Okopi is n Architect and Graphic Designer who loves to write poetry and engage in activities that stretch HIS imagination.
He is based in Nigeria and blogs at http://www.chemossymphonies.blogspot.com
Comments
comments