The world is changing fast, and the measure of one's success is now being determined by one's ability to adapt and master these changes. Facebook, though arguable, is about the biggest thing that happened to the 21st century. It has become more than just an online social networking platform; it is now a tool for success. Many Nigerian writers have embraced this reality and are expanding their readership and sharing their craft with more people using this platform. The list below outlines my top 10 Nigerian writers/authors who are using this wonderful platform.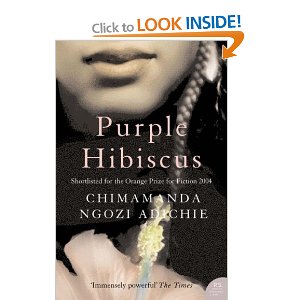 1. CHIMAMANDA NGOZI ADICHIE: Author of 3 books so far, Purple Hibiscus, Half of a Yellow Sun, and The Thing Around Your Neck. In some circles she is regarded as the most celebrated writer of the last decade. She enjoys a certain level of exclusivity that makes her ever more relevant and respected. She sits comfortably at the top of this list because her number of followers and fans keeps rising almost on a per minute basis.
2. LOWLA DEE: She is a young writer/blogger and philanthropist. Mostly published on her website, but she enjoys amazing followership for her 'Amazing Grace' series. Her online activity chart will break meters.
3. LOLA SHONEYIN: Her book, The Secret Lives of Baba Segi's Wives, was long listed for the Orange Prize 2011. She is based in Abuja and she is doing a great job with promoting reading and writing there.
4. MYNE WHITMAN: Author of A Heart To Mend and A Love Rekindled. A powerful blogger and the Editor/Creator of www.naijastories.com. She was able to penetrate and establish herself in the Nigerian literary society from the United States where she resides.
5. JUDE DIBIA: One of several authors under the Jalaa Writers Collective. His book, Blackbird, was published under that initiative. He is very active on facebook, promoting his craft and writing generally.
6. CHIKA UNIGWE: An Afro-Belgian writer of Nigerian origin. Her second novel, On Black Sister's Street, has been getting rave reviews both at home and abroad.
7. ADAOBI TRICIA NWAUBANI: Her novel, I Do Not Come To You By Chance, made her famous quickly in the country. The book is rich in humour and information.
8. OKEY NDIBE: A writer and political commentator. He teaches fiction and African literature at Trinity College in Hartford, CT. He is the author of the novel, Arrows of Rain.
9. JUMOKE VERISSIMO: She is a poet and writer. She won First Prize, Carlos Idize Ahmad Prize for a first book of Poetry 2009. She is described as "one of those who will change the face of literature in Nigeria."
10. HELON HABILA: He won the Caine Prize for African fiction (short story) in 2001, and the Commonwealth Writers Prize (Best First Book, Africa Region) in 2003. He is the author of 3 novels, Waiting For An Angel, Measuring Time, and Oil On Water.
_______
*Editor's Note* This is a personal list and thus subjective. If you prefer other writers and are friends or fans of theirs on FB, we'll like to hear your comments. Feel free to submit a post if you wish.
Comments
comments